Dozens of Egyptians 'missing' in Libya desert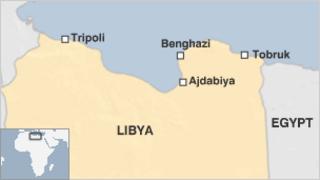 Dozens of suspected illegal Egyptian migrants are missing in the Libyan desert, Egypt's foreign ministry says.
The Libyan authorities were alerted by a shepherd who spotted the group on the road between the eastern towns of Tobruk and Ajdabiya earlier this week.
Helicopters and vehicles sent to search for the Egyptians south-west of Tobruk found one alive and two bodies, according to the foreign ministry.
Thousands of Egyptians regularly travel to Libya, mostly for work.
Earlier this month, dozens of Egyptian workers, many of them lorry drivers, were abducted by a Libyan armed group pressing for the release of Libyans detained in Egypt. They were freed after negotiations.
A Libyan security source told the AFP news agency that the Egyptian migrants lost in the desert had entered illegally with the help of smugglers, who then abandoned them.
The two found dead are thought to have fallen victim to dehydration.