Egypt athlete 'stripped of gold medal' for Morsi support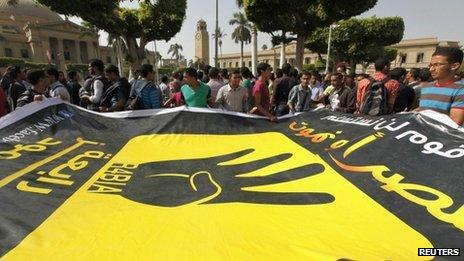 An Egyptian kung fu champion has been stripped of a gold medal after showing support for ousted President Mohammed Morsi, according to his family.
Mohammed Youssef has also been banned from representing his country.
Mr Youssef was photographed at a tournament in Russia wearing a T-shirt with a symbol showing solidarity with pro-Morsi protesters.
Egypt's government has cracked down on supporters of the former president after he was deposed in July.
Mr Youssef's brother Hammam says the athlete was sent home early from the contest and interrogated on arrival, reports the BBC's Orla Guerin in Cairo.
The gold medal he had won was confiscated.
State-run media pictured him receiving the honour in a T-shirt emblazoned with an open palm and four fingers - the symbol of a pro-Morsi camp violently cleared by the authorities.
"He will also be banned from representing Egypt in the coming Kung Fu World Championship."
It is unclear if the ban will be permanent.
Hundreds of protesters died when security forces stormed two sit-ins in the capital in August.
Our correspondent says the punitive action against Mr Youssef will add to growing concerns about freedom of speech under Egypt's new military-backed government.
Meanwhile, Egypt's state prosecutor has ordered an investigation into complaints against popular TV satirist Bassem Youssef after he mocked army chief Gen Abdul Fattah al-Sisi in the first programme of his new season on Friday.
The presenter was arrested by the country's former Islamist government earlier this year over allegations he insulted Islam and President Mohammed Morsi.
Mr Morsi is due to stand trial on November 4 on charges of inciting murder and violence.
His supporters announced on Monday that the former leader had rejected the authority of the court where the trial is due to take place.
"No lawyers will be defending President Mohammed Morsi, neither Egyptians nor foreigners, because the president does not recognise the trial or any action and processes that result from the coup," the Anti-Coup Alliance, led by Mr Morsi's Muslim Brotherhood, said in a statement.
The Brotherhood is demanding the reinstatement of Mr Morsi and says he was deposed in a military coup.
The former president is due to stand trial with 14 others for incitement to murder in connection with deadly clashes outside the presidential palace in December 2012.