Iran Sunni group Jaish al-Adl claims border attack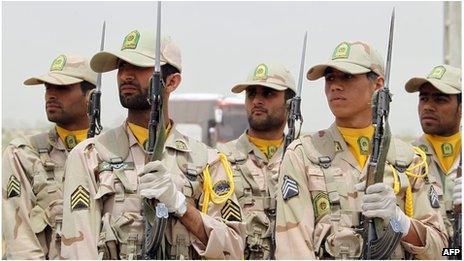 A little-known Iranian Sunni group says it carried out the killing of 14 border guards on Friday night.
Jaish al-Adl said the attack was in retaliation for an alleged Iranian "massacre" in Syria and the "cruel treatment" of Sunnis in Iran.
The group vowed to avenge the hangings of 16 prisoners by authorities in retaliation for the border attack.
The Sunni Muslim population in Sistan-Baluchistan complains of discrimination by the Shia Iranian state.
An armed Sunni group, called Jundallah, has carried out a number of attacks against the state in recent years.
But the provincial governor blamed Jaish al-Adl, whose name translates as the Army of Justice, for Friday's attack and the group now appears to have confirmed that in a statement on its website.
"This victorious operation is a response to the ferocious massacre carried out by the Islamic Revolution Guards Corps (IRGC) in the Islamic land of Syria," Jaish al-Adl's statement said, referring to Iran's powerful military and political force often referred to as the Revolutionary Guards.
"[It] is also a response to oppression and crimes this regime commits against the innocent Sunni community in Iran including the execution of innocent Baluch youths and zealous Kurd youths and warrior youths from Ahvaz who have been hanged by this usurper and cruel regime," it said.
It is unclear what "ferocious massacre" in Syria the group is referring to, but video footage has recently emerged on the internet suggesting that Revolutionary Guards - or more specifically, their elite overseas arm the Quds Force - are militarily engaged in Syria on the side of government forces.
The group says it will "avenge the blood" of 16 prisoners hanged in prison in the provincial capital, Zahedan, on Saturday in an apparent revenge killing by authorities.
It is not known what connection, if any, those hanged had to the border attack. They were described by authorities as "linked to groups hostile to the regime".
Jaish al-Adl claimed responsibility for a roadside bomb in Saravan, on the south-eastern border with Pakistan, which killed "several" Revolutionary Guards in late February, the Iran Daily Brief reported in March.
Friday's border post attack took place in a mountainous region outside Saravan. A parliamentary committee on national security is due to investigate the attack on Sunday, a committee member has reported.
Fars has quoted the province's deputy governor-general, Rajabali Sheikhzadeh, as saying those behind the attack later fled to Pakistan.
The region is one of the most poverty-stricken in Iran.
Its instability is exacerbated by its positioning on a major drug trafficking route between Afghanistan and Europe, and reports suggest insurgent groups may be funded in part through arms and drugs trafficking.