Syrian mosque car bomb 'kills 40' in Suq Wadi Barada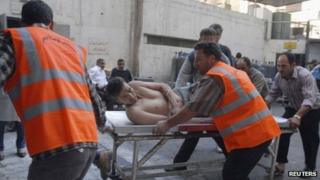 At least 40 people, including children, have been reported killed in a car bomb blast in Syria, outside a mosque in a town in Damascus province.
The blast, in the town of Suq Wadi Barada, came just before the end of Friday prayers and brought down the mosque's entrances.
Both the government and rebels blamed each other for the explosion.
Meanwhile, Norway has turned down a request to help the UN dismantle Syria's chemical weapons arsenal.
The UN has set a deadline of mid-2014 for the weapons to be destroyed.
Sweden has offered to provide an air force unit to transport the weapons. But Norway, asked by the US to help destroy the arms, said it was "not the most suitable location" for the work.
In separate developments on Friday:
Damascus says government troops killed at least 40 rebels in an ambush near Damascus, adding that a large cache of weapons was seized
Syrian state TV says the head of the al-Qaeda linked al-Nusra Front, Abu Mohammed al-Jolani, was killed in the west of the country - but opposition sources have denied the claim
Children killed
At least three children were among the dead and dozens more wounded in Friday's car bombing, UK-based activist group the Syrian Observatory for Human Rights said.
While Suq Wadi Barada was under opposition control, government forces were positioned just outside the town, it said.
State news agency Sana said one of the victims was aged seven. It blamed opposition forces, saying the bomb exploded while "terrorists were preparing it".
Rebel leaders blamed government troops.
Car bombs have become a common, deadly occurrence in the long-running conflict. Earlier this week, a truck bomb in the central city of Hama killed at least 30 and wounded dozens more.
Observatory figures show the 31-month conflict has killed more than 115,000 people. More than five million people are displaced inside Syria, and another two million have fled the country as refugees, according to the UNHCR.
MSF warning
Medical charity Medecins Sans Frontieres (MSF) issued a warning Friday that continuous heavy bombing had forced 130,000 people out of al-Safira in the north.
They said aid agencies could not cope with the numbers as winter approaches.
"These people arrive in areas that already host a large number of displaced people, where the rare humanitarian players that are present are faced with huge needs," Marie-Noelle Rodrigue, MSF head of operations said in a statement.
Fighting has also spread to northern Lebanon.
The northern city of Tripoli has seen five days of street battles between supporters and opponents of the Syrian regime, killing five and injuring more than 40.