Bahrain teenager killed by blast in Shia village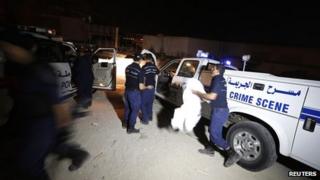 A 17-year-old boy has been killed by an explosion in Bahrain, police say.
The incident happened late on Tuesday night in the predominantly Shia village of Bani Jamra, west of Manama.
The head of Northern Governorate Police said "a bomb, a gun and ammunition were found near the body" of the boy, who was "wanted on criminal charges".
Initial investigations revealed that the bomb had exploded while he was "carrying it to plant in another location", a statement added.
There have been several attacks involving homemade explosive devices in Bahrain since March 2011, when security forces cracked down on protests demanding more rights and an end to discrimination against the majority Shia community by the Sunni royal family.
Opposition and human rights activists say more than 80 people have been killed in ongoing clashes between security forces and protesters. The government says the death toll is lower.