Egypt police to be tried over detainee tear-gas deaths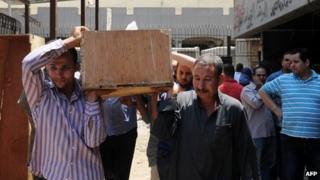 Egypt's state prosecutor has referred four policemen to trial over the deaths of 37 Islamist detainees in August.
The officers, including the deputy chief of a Cairo police station, have been charged with manslaughter.
The detainees died as a result of suffocation when tear gas was fired into the back of a vehicle transporting 45 of them to a prison outside Cairo.
Security officials initially said they had tried to escape, but prosecutors found no evidence to support the claim.
The incident sparked international condemnation, with UN Secretary General Ban Ki-moon saying he was "deeply disturbed" by the deaths and calling for a "full investigation".
It took place four days after hundreds of people were killed when security forces cleared two sit-ins in the capital by supporters of President Mohammed Morsi, who was ousted by the military in July.
Thousands of Islamists have since been detained, including Mr Morsi and other senior leaders of the Muslim Brotherhood, who have been charged with inciting murder and violence.
The detainees who died on 18 August were among 45 being transported to Abu Zabal prison in a vehicle designed to carry only 24 people, the Reuters news agency quoted a prosecution statement as saying.
The state-run al-Ahram newspaper said on its website that the state prosecutor had ordered the four policemen charged with their manslaughter to be remanded in custody.