Wanted Palestinian militant killed in West Bank raid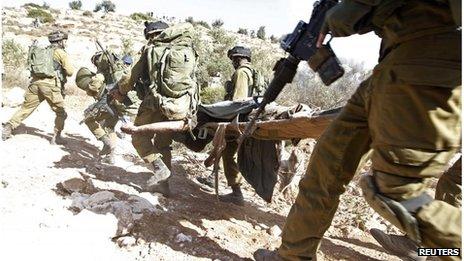 A Palestinian militant has been shot dead by Israeli troops in the West Bank, the Israeli army has said.
Mohammad Assi, a member of Islamic Jihad, was killed during a gunfight near the village of Bilin, army spokesman Lt Col Peter Lerner said.
Assi reportedly exchanged fire for several hours with the soldiers from a cave after escaping an arrest raid.
He was suspected of planning a bomb attack on a bus in Tel Aviv on 21 November 2012 that injured 29 people.
The attack happened at the end of an eight-day conflict between Israel and militants in the Gaza Strip.
"Mohammed Assi was hiding out in various places over the last year trying to avoid detection. This morning his running came to an abrupt end," Col Lerner wrote on Twitter.
Israel Radio reported that two associates were arrested in the initial Israeli operation in Bilin in the early hours of Tuesday morning, but that Assi escaped and sought refuge in a nearby cave.
The troops surrounded the cave for a number of hours, during which there were exchanges of fire. At one point, a rocket-propelled grenade was launched at the troops, according to Israel Radio.
Assi was eventually shot after refusing calls to surrender, it added.
Islamic Jihad said he had been one of its members, and that he was "assassinated by the occupation in Kufr Nemeh", a village near Bilin.
Two months ago, three Palestinians were shot dead in clashes that erupted when Israeli troops tried to detain a suspect in the Qalandiya refugee camp.