Senior Rebel commander killed in southern Syria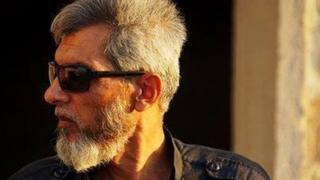 A senior rebel commander in southern Syria has been killed while fighting government troops near the city of Deraa, activists and state media say.
Yasser al-Abboud, a former Syrian army officer who defected, reportedly died while leading an assault on army checkpoints in the town of Tafas.
Known as Abu Ammar, he headed the rebel Supreme Military Council's "operations room" in eastern Deraa province.
State television described him as a "criminal, treacherous... deserter".
Mr Abboud was the leader of the Fallujah-Horan Brigade, and one activist told the AFP news agency that he was "one of the most effective commanders on the ground".
News of his death came after government aircraft carried out four strikes on areas south-east of the capital, Damascus, that were captured by rebels over the weekend, the Syrian Observatory for Human Rights reported.
The rebel advance followed a suicide bombing at a checkpoint between the rebel-held suburb of Mulaiha and government stronghold of Jaramana. The al-Nusra Front said it was behind the attack.
South-west of the capital, there were fierce clashes in the suburb of Muadhamiya as government forces continued their assault.
'Syrian affair'
As the fighting continued on the ground, US Secretary of State John Kerry and the UN envoy to Syria Lakhdar Brahimi sought to build support for a proposed peace conference.
After holding talks with Iraq's foreign minister in Baghdad, Mr Brahimi said all countries "with interests and influence in the Syrian affair" ought to participate in the meeting in Geneva to negotiate a political solution to a conflict that has left more than 100,000 people dead.
On Sunday, Mr Brahimi said he hoped the conference would be held on 23 November, but warned that it could not go ahead without the presence of a "credible opposition".
The opposition has demanded that any agreement must see President Bashar al-Assad step down, but the government has said that is not on the table.
On Monday, the main opposition alliance, the National Coalition, said it was postponing until early November meetings to decide whether to attend the Geneva conference. The dominant group in the coalition, the Syrian National Council, has refused to go.
Foreign ministers from Western and Arab states that back the coalition - known as the Core Group of the Friends of Syria - will discuss the impasse at a meeting in London on Tuesday.
Meanwhile, President Assad has reportedly told al-Mayadeen television that he saw no reason why he could not stand for re-election in 2014. "Personally, I don't see any obstacles to being nominated to run in the next presidential elections," he was quoted as saying by the channel.