Egypt police clash with students at al-Azhar University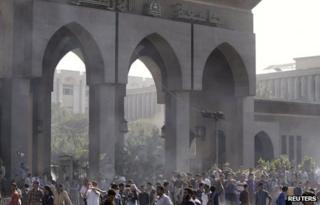 Egyptian police have fired tear gas to disperse hundreds of students staging an anti-military protest at Cairo's al-Azhar University, reports say.
Students had blocked the main road leading to the campus and threw rocks as security forces drew near.
Clashes at the country's top Islamic institution erupted when students tried to take their protest off the campus.
Supporters of former President Mohammed Morsi have staged regular anti-army protests since he was ousted on 3 July.
There were no immediate reports of casualties at the al-Azhar protest.
The campus is close to Rabaa Square where Islamists set up a huge protest camp that security forces raided in August, leaving hundreds dead and sparking days of unrest.
A Reuters witness said some of the students were trying to reach the square, when they were cut off by the security forces.
There were also reports of scuffles at a demonstration at Cairo University between supporters and opponents of Mr Morsi.
Hundreds of people demanding his reinstatement - mostly Muslim Brotherhood supporters - have been killed in clashes with security forces since his ousting.
Mr Morsi and other senior Brotherhood figures have been imprisoned and face trial next month.