Egypt unrest: Bomb hits Ismailiya intelligence HQ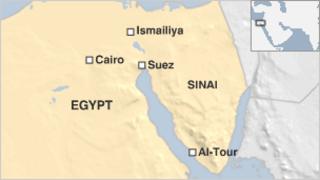 A car bomb has exploded outside a military intelligence building in the Egyptian city of Ismailiya, north-east of Cairo.
The Egyptian army said six soldiers were injured in the blast, which destroyed part of the building's wall and set fire to several cars.
A second car bomb was found in the area, but experts managed to defuse it, AFP quoted officials as saying.
Witnesses said they had heard loud gunfire around the time of the blast.
Ismailiya and nearby areas have seen regular attacks on the police and military personnel by Islamist militants.
The military has been carrying out a wide-ranging operation against militants in the Sinai Peninsula.
Police and army troops have cordoned the area for security checking.