Baghdad car bomb kills six and wounds 16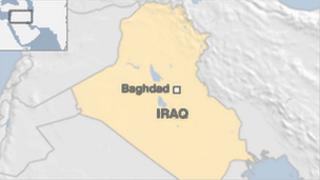 A car bomb in a street in the Iraqi capital Baghdad has killed six people and wounded at least 16.
The blast struck in the Mashtal area in the east of the city.
It comes a day after more than 60 people were killed in a series of bomb blasts across the country, including nine attacks targeting mainly Shia areas of Baghdad.
Sectarian violence in Iraq has worsened dramatically in recent months, reaching levels not seen since 2008.
The UN estimates that more than 5,700 people have been killed in acts of violence in the country this year.
Almost 1,000 people were killed and more than 2,000 wounded in September alone, the UN says, making it one of the highest monthly death tolls for years.