Yemeni soldiers killed in suicide car bomb attack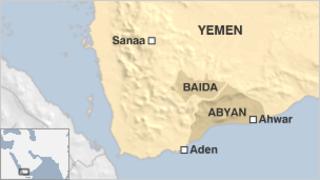 At least six soldiers have been killed and 10 others wounded in a suicide car bomb attack at an army base in the south of Yemen, military officials say.
The attacker detonated his explosives-filled car at the entrance to the base in Ahwar district, in Abyan province.
The base's commander was reportedly seriously wounded and flown to a nearby hospital by a military helicopter.
On Thursday, a soldier was killed when several checkpoints in the central province of Baida were attacked.
The official Saba news agency reported that assailants, believed to be from al-Qaeda in the Arabian Peninsula (AQAP), were repelled and suffered heavy losses.
Last year, a major army offensive forced AQAP and its allies out of towns in the south that they seized during the political chaos triggered by the uprising against former President Ali Abdullah Saleh.
Since then, AQAP is believed to have carried out dozens of attacks on Yemen's security forces, killing hundreds of personnel
On 20 September, suspected AQAP militants killed at least 40 soldiers in simultaneous raids on army targets in Shabwa province.