Egypt denies unlawfully detaining Syrian refugees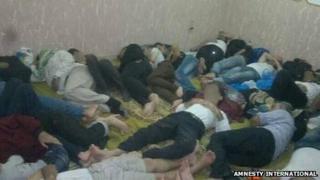 Egypt's foreign ministry has described as inaccurate a report that accuses the Egyptian authorities of unlawfully detaining hundreds of Syrian refugees.
Amnesty International said scores of children were being held, often without their parents, while some refugees had been detained at police stations.
A foreign ministry spokesman said the Syrians were treated as "brothers".
There were some cases of people who had taken part in armed protests and these were dealt with lawfully, he added.
'Individual cases'
While Egyptian President Mohammed Morsi was in power, Syrian refugees told Amnesty that they felt safe and protected in Egypt.
However, after he was deposed by the military in July, some public figures and parts of the mainstream media started accusing Syrians of being supporters of the Muslim Brotherhood and taking part in pro-Morsi demonstrations that demanded his reinstatement.
Rather than helping vulnerable Syrian refugees, the Egyptian authorities began detaining hundreds of them, including children, Amnesty alleged.
Many were being held in deplorable conditions in overcrowded police stations, the report said. Refugees were offered a choice between prolonged detention and agreeing to be deported, it added.
But Egyptian foreign ministry spokesman Badr Abdul Atti said the report "failed to reflect the real conditions of Syrians on the ground in Egypt".
He said there was no "official policy" to deport Syrians against their will, and that the majority of the Syrians in the country "live in peace".
"There are some limited individual cases of Syrians who took part in armed demonstrations or acts of violence, and these were individual cases that have been dealt with in accordance to the law."
Up to 300,000 were being treated decently "as Arab brothers", receiving the same healthcare and education as Egyptians, Mr Abdul Atti added.
"It's a matter of principle for Egypt to support the Syrian people in their plight and to support the Syrian revolution," he stated.
Mr Abdul Atti said the new requirement for Syrians to have visas to enter Egypt was "an exceptional measure linked to the security situation in Egypt" and would later be reviewed.
The UN refugee agency says 123,000 Syrians have registered with it in Egypt. More than 2.1 million people have abroad since the uprising in Syria began in 2011.