Israeli troops kill Palestinian who rammed army base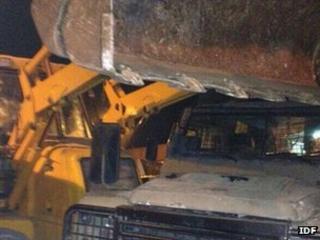 A Palestinian man who used a tractor to break into an Israeli army base in the West Bank has been shot and killed by soldiers, according to a spokesperson for the Israel Defense Forces.
The man broke down the gate to the base, between Ramallah and Jerusalem.
Military doctors treated the man for his injuries but he died a short time later. There were no Israeli injuries.
Palestinian sources told AFP that the dead man was named Yusef Ahmed al-Radaydeh.
Israeli media reports say Radaydeh was the brother of Miri al-Radaydeh, who rammed a bus and a police car, injuring two policemen, with a bulldozer before being shot dead, in Jerusalem in 2009.
There have been a number of recent deadly attacks by Palestinians on Israelis in the West Bank, as well as the shooting of a nine-year-old girl a fortnight ago.
The BBC's Kevin Connolly, in Jerusalem, says the violent incidents form an unpromising backdrop to the peace negotiations between Israelis and Palestinians, which continue behind closed doors.