Ex-Halliburton manager admits destroying oil spill data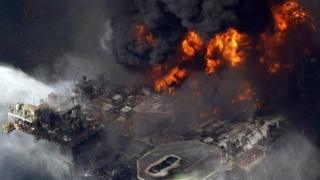 An ex-manager of US energy services giant Halliburton has admitted destroying evidence linked to the 2010 Gulf of Mexico oil spill.
Anthony Badalamenti, 62, pleaded guilty in a US district court, and faces a maximum sentence of a year in prison.
The disaster - the biggest offshore oil spill in US history - was caused by an explosion at the Deepwater Horizon rig, which killed 11 people.
Halliburton has already pleaded guilty to the unauthorised deletion of data.
The contractor is the third of three major companies at the heart of the huge oil spill to admit criminal wrongdoing.
BP and rig operator Transocean have already pleaded guilty to charges related to the disaster.
Halliburton was BP's cement contractor on the drilling rig that exploded.
Mr Badalamenti was the cementing technology director for Halliburton, and is being accused of instructing his program manager to delete computer records.
The program manager "felt uncomfortable" about what he was asked to do, but still complied, according to prosecutors.
Another Halliburton employee also deleted data after receiving instructions from Mr Badalamenti, prosecutors said.