Three Red Cross staff freed in Syria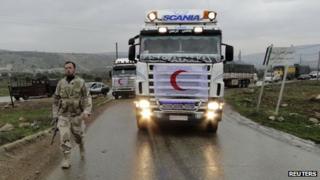 Three out of six kidnapped Red Cross members and a Syrian Red Crescent volunteer have been "released safe and sound" in Syria, the ICRC says.
The organisation says it is awaiting information on the remaining three.
The workers were abducted by unknown gunmen on Sunday near Saraqeb, in Idlib province, where they were delivering aid and assessing health services. They were freed near the Turkish border.
It is not clear who carried out the kidnapping.
Syrian state television blamed what it called armed terrorists - a term it frequently uses to describe anti-government rebels.
Hardline Islamist rebels are known to operate in the area, says the BBC's Jim Muir in Beirut.
Kidnappings, particularly of aid workers and journalists, have become increasingly common in the north, where much of the countryside has fallen into rebel hands.
In August, the ICRC said the number of Syrian Arab Red Crescent volunteers who had lost their lives since the start of the conflict had risen to 22.
The ICRC said the four aid workers were released in Idlib province, near the border with Turkey. The head of ICRC's operations for the Middle East, Robert Mardini, broke the news via a tweet.
The agency has not released details of their gender, nationalities or the circumstances under which they were freed.
But the group is believed to include both local and international staff. Most are thought to be medical specialists.
The ICRC says it has been struggling to gain access across Syria to provide aid to injured and displaced people.
"Of course this type of incident is terrible because it is disruptive and puts in jeopardy our operations in Syria," Mr Mardini told Reuters earlier.
But he said the ICRC remained committed to its relief operations in Syria.
An estimated 100,000 people have died during the two-year conflict, in which armed opposition groups are seeking to topple President Bashar al-Assad.