Egypt inquiry into jail death of US man James Henry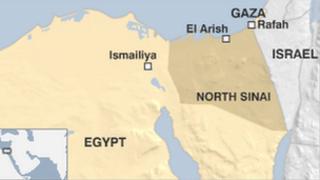 Egypt's public prosecutor has ordered an inquiry into the death of a US citizen found dead in a police cell.
He said the man, named as retired US military officer James Henry, was found hanging from a bathroom door by his belt and shoe laces.
Mr Henry, 66, was reported to have been heading for the Gaza Strip in August, when he was detained in North Sinai for violating a curfew.
A US embassy official in Cairo said the death was "an apparent suicide".
According to local reports, the retired army officer's death came a day after the authorities told him they were extending his detention by a further 30 days.
Officials told the AFP agency that a US embassy delegation had visited James Henry in his cell in the city of Ismailiya last week.
Second foreign death
The prosecutor said Mr Henry was arrested on 29 August on the road between El Arish and Rafah in North Sinai, for breaking a dusk-to-dawn curfew.
The curfew was put in place across large parts of Egypt under a decree by the interim government, to quell unrest following the ousting in July of Islamist President Mohammed Morsi.
In a statement, the prosecutor said Mr Henry had been carrying a map of Egypt and an advanced electronic device.
US embassy officials in Cairo said they were in contact with the Egyptian authorities and were providing all appropriate consular services.
Mr Henry is the second foreign citizen to die in police custody in as many months, reports BBC Cairo correspondent Orla Guerin.
A French national was found dead in a Cairo police station in September after allegedly being beaten to death by fellow prisoners following a row.