Egypt's Mohammed Morsi to stand trial in November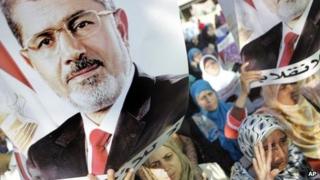 Egypt's ousted President Mohammed Morsi is to go on trial on 4 November on charges of inciting murder and violence, state media report.
The charges relate to the deaths of at least seven people during clashes between opposition protesters and Muslim Brotherhood supporters outside a presidential palace in Cairo last year.
Mr Morsi will stand trial with 14 other senior figures from the Brotherhood.
He has been detained at a secret location since being deposed on 3 July.
Hundreds of people demanding his reinstatement - mostly Brotherhood supporters - have since been killed in clashes with security forces.
More than 50 died at protests held in several cities on Sunday.
Investigations
On Wednesday, the Cairo Appeals Court ruled Mr Morsi and the other 14 defendants, including Mohammed al-Beltagi and Essam al-Erian, could be tried before a criminal court, the Mena state news agency reported.
State prosecutors had announced last month that they had been charged with incitement in connection with the violence outside the Ittihadiya presidential palace in Cairo's Heliopolis district on 5 December 2012.
In the incident, thousands of people held a sit-in outside the palace to protest against Mr Morsi's decision to call a referendum on a draft constitution rushed through by an Islamist-dominated assembly.
Brotherhood supporters subsequently responded to a call to rally outside the palace to prevent it being overrun.
Police were accused of doing nothing to intervene as people on both sides threw rocks and fire-bombs. Firearms were also reportedly used.
At least 10 people were killed and hundreds injured. Most of the casualties were Brotherhood supporters.
Mr Morsi is also being investigated over allegations related to his escape from prison during the uprising that forced Hosni Mubarak from power in 2011, including that he conspired with the Palestinian Islamist militant group Hamas, an offshoot of the Brotherhood.
He is also reportedly suspected of having insulted the judiciary by accusing it of helping Mr Mubarak rig the 2005 parliamentary elections.