US 'to suspend Egypt military aid' over crackdown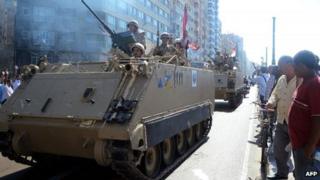 The US government will suspend part of the $1.3bn (£810m) in aid it gives to Egypt's military, US media report.
Deliveries of tanks and aircraft will be held up, but aid for counter-terrorism and border security will not be affected, officials say.
The decision is expected to be announced in the coming days.
A review was launched in August after a crackdown by the authorities on supporters of ousted President Mohammed Morsi left hundreds of people dead.
On Sunday, more than 50 people were killed in clashes between Morsi supporters, opponents and security forces in several cities.
Thousands of members of the Muslim Brotherhood have also been detained in the past two months. Several senior figures, including Mr Morsi and the movement's general guide Mohammed Badie, are being held on charges including incitement to violence and murder.
The authorities portray the crackdown as a struggle against "terrorism".
'Democratic path'
In a speech to the UN General Assembly last month, US President Barack Obama was critical of the actions of Egypt's military-backed interim government.
While asserting that it had "responded to the desires of millions of Egyptians who believed the revolution had taken a wrong turn" when it deposed Mr Morsi in July, Mr Obama said the government had since "made decisions inconsistent with inclusive democracy".
US support would "depend upon Egypt's progress in pursuing a more democratic path", he warned.
Before Mr Morsi's overthrow, the White House had requested $1.55bn in assistance for Egypt for 2014, $1.3bn of which was for military aid and $250m for economic aid. Some of the latter goes to the government and the rest to other groups.
About $585m of the military aid had not been disbursed when the review began in August, according to the New York Times. The Obama administration had already suspended the shipment of four F-16 fighter jets and cancelled joint exercises by the US and Egyptian militaries.
On Tuesday, a spokeswoman for the US National Security Council said reports that all military assistance to Egypt would be halted were "false".
"We will announce the future of our assistance programme with Egypt in the coming days," Caitlin Hayden told reporters.
In September, security aides recommended that President Obama suspend all foreign military financing to Egypt's army, except for money that supports security in the increasingly volatile Sinai peninsula and along Egypt's border with Gaza, according to the Associated Press.
The US should continue to provide non-military aid for education and other social programmes, but not the government, the aides advised.
In a newspaper interview published on Wednesday, Egypt's armed forces chief and defence minister, Gen Abdul Fattah al-Sisi, described Egypt's relations with the US as "strategic", but warned that he would not tolerate pressure from its ally, "whether through actions or hints".