Syria: Chemical weapons watchdog to send second team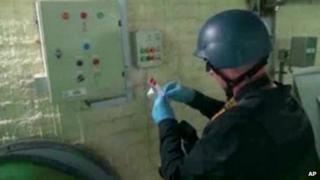 The world's chemical weapons watchdog has said it will send a second team of inspectors to boost its programme to destroy Syria's stockpile.
The Organisation for the Prohibition of Chemical Weapons (OPCW) said it had made "a constructive beginning" to "a long and difficult process".
However, it did not say how many extra inspectors would be deployed, or when.
Under a UN resolution, Syria's chemical weapons mixing and filling equipment must be destroyed by 1 November.
In a statement, OPCW chief Ahmet Uzumcu also said that the Syrian government had submitted additional information updating its initial disclosure, which would help the OPCW plan its future activities.
Mr Uzumcu was delivering his first report to the 41-nation OPCW executive council.
The BBC's Anna Holligan in the Hague says this report is significant because the content is based on evidence gathered by the OPCW experts on the ground in Damascus.
They were part of an advance party, sent out to hold talks with the Syrian authorities and smooth the way for the destruction process to begin, our correspondent says.
On Sunday, members of the joint OPCW and UN mission observed Syrian staff using cutting torches and angle grinders to destroy missile warheads, aerial bombs, and mixing equipment.
This dismantling work is continuing at undisclosed locations this week, as the conflict in Syria continues.
UN Secretary-General Ban ki-Moon has described it as "an operation the likes of which has never been tried before".
US Secretary of State John Kerry has welcomed "a good beginning", and says the next step is to secure a date for the so-called Geneva-2 peace talks.
No end in sight
However, human rights groups point out that chemical weapons are only responsible for about 2% of the estimated 100,000 deaths during the two-year conflict, in which armed opposition groups are seeking to topple President Bashar al-Assad.
The groups warn that disposing of the chemical capabilities will not stop the war.
Earlier on Tuesday, the UN estimated that more than eight million Syrians could have been forced from their homes by the country's civil war by the end of 2014.
The number of refugees outside Syria is expected to hit 3.2m by the end of this year and 5.2m by the end of 2014.
A further 2.25m are projected to be internally displaced next year, which would bring the number of those affected to more than a third of Syria's pre-war population.
The estimates of the scale of the future human impact of the conflict were made at a meeting of UN agencies and NGOs late last month.
However, a UN spokesman emphasised that the figures reflected the estimates made at the time, and that the final projections used to plan UN agencies' response in 2014 - due to be released this December - are likely to be even higher.