Obituary: Rabbi Ovadia Yosef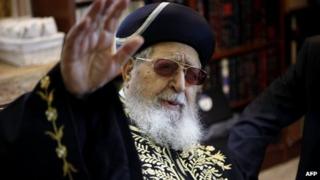 As the leader of the Sephardic Jewish community, Rabbi Ovadia Yosef was revered by Jews of Middle Eastern and North African descent as a supreme authority on Jewish law.
He was celebrated by his followers for empowering Mizrachi, or Sephardic Jewry, and reshaping their image as second-class citizens.
He also exerted great sway in Israeli politics, deciding who would lead the ultra-Orthodox Shas party he founded in the 1980s and having final say over its actions.
Israeli prime ministers, including Benjamin Netanyahu, Ariel Sharon and Yitzhak Rabin, often sought council with him before significant political decisions.
Israeli President Shimon Peres visited the rabbi's bedside before his death on Monday at the age of 93.
"He is unique in our generation and in many generations. He is a great man, a great leader, the greatest rabbi of our generation, and there is no one who can come close to his greatness," Shas MP Rabbi Nissim Zeev told the BBC.
"There is no one like him. He wasn't only a great Torah scholar but he was a leader of the Sephardic Jews and of the Jewish nation. The whole world wanted to hear his Torah and his opinions."
He compared Rabbi Yosef to Moses Maimonides, regarded by many as the greatest Jewish philosopher of the Middle Ages.
Skilled orator
Rabbi Yosef was born in 1920 in Baghdad.
Aged four, he emigrated with his family from Iraq to Jerusalem and excelled in his studies in the prominent Porat Yosef Yeshiva.
He served as Tel Aviv's chief rabbi and as the head of rabbinical courts in Israel and in Cairo, before serving as Chief Sephardic Rabbi of Israel from 1972 to 1983.
He received the Israel Prize in 1970 for biblical literature and published numerous books on Jewish law and Judaism's most important text, the Torah.
After growing up in an impoverished home, Rabbi Yosef became known as a skilled orator, giving weekly lectures and inspiring classes that were broadcast in Israel and abroad.
At times the rabbi caused controversy with his comments about secular Jews and non-Jews.
In 2001, he called for the annihilation of Arabs, saying it was "forbidden to be merciful to them", although he later said he was referring only to "terrorists" who attacked Israelis.
Legal 'revolution'
Experts said he would be remembered for his groundbreaking Jewish legal decisions concerning women and the Ethiopian Jewish community, and for ruling that it was permissible to give away land in Israel for the sake of peace and to prevent bloodshed.
"The most important revolution he made was in the field of Jewish law," said Yair Ettinger, religious affairs correspondent for the Israeli newspaper Haaretz.
"He had some very brave rulings, and had a humane attitude towards Jewish law and Jewish life."
Though his Shas party is currently in the opposition, Rabbi Yosef supported the peace process with the Palestinians.
While he called for Mahmoud Abbas to "vanish from our world", the Palestinian Authority president said on Monday that he had previously met members of Rabbi Yosef's family and sent them his condolences.
Rabbi Yosef's wife died 19 years ago and they had 11 children, many of them prominent figures in the ultra-Orthodox sector. His son, Yitzhak, is Israel's current chief Sephardic rabbi.