Iran nuclear: FM Zarif wants 'new approach' at talks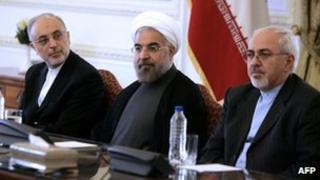 Iran's foreign minister is urging world powers to come up with new proposals for talks on its nuclear programme, which are set to resume next week.
Mohammed Javad Zarif said the terms offered before Hassan Rouhani was elected president were now "history" and that a "new approach" was needed.
The existing proposals seek curbs on uranium enrichment in Iran.
Mr Rouhani has vowed to bring a plan to substantive nuclear negotiations due to take place on 15 October.
Just over a week ago, he spoke to President Barack Obama by phone in an effort to ease tension over Iran's nuclear ambitions - the first conversation between Iranian and US leaders in more than 30 years.
Iran wants talks to result in a lifting of UN sanctions imposed over concerns that it aims to build nuclear weapons clandestinely - an allegation Tehran denies.
In another development, a senior Iranian official said the authorities are holding four people believed to be involved in sabotage against Iranian nuclear facilities.
Illusions
"The previous plan given to Iran belongs to history and they must enter talks with a new point of view," said Mr Zarif, who is both foreign minister and chief nuclear negotiator.
"The players must put away this illusion that they can impose anything on the Iranian people," he told Iranian state TV late on Saturday.
The election of Mr Rouhani in June and appointment of Mr Zarif have raised hopes that Iran's standoff with the West over its nuclear programme can be resolved.
Supreme Leader Ayatollah Ali Khamenei endorsed Mr Rouhani's overtures to the US on Saturday.
"We support the diplomatic initiative of the government and attach importance to its activities in this trip," he said on his website.
Ayatollah Khamenei said that "some of what happened on the New York trip was not appropriate", without being specific.
"We are pessimistic towards the Americans and do not put any trust in them," he said.
"The American government is untrustworthy, supercilious and unreasonable, and breaks its promises."
Key Iranian nuclear sites