Iraq violence: Attack kills dozens of Shia pilgrims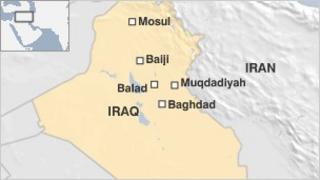 An attack on Shia pilgrims in the Iraqi capital, Baghdad, has left at least 51 people dead and more than 100 injured, an interior ministry official says.
The attack in Adhamiyah district came as pilgrims walked to a Shia shrine and followed a day of violence elsewhere.
In the mainly Shia town of Balad a suicide bomber killed at least 12 people in a cafe, while in Mosul gunmen shot dead two journalists.
Iraq has seen a sharp rise in sectarian violence in recent months.
No groups have yet said they carried out Saturday's attacks, but much of the recent violence has been carried out by Sunni organisations linked to al-Qaeda.
Local TV
Another bombing in Baghdad on Saturday, in the neighbourhood of Bayaa, left at least two dead and 10 wounded.
The cafe targeted in Balad, about 80km (50 miles) north of the Iraqi capital, had also been hit by a suicide bombing in August, officials said.
Balad is largely Shia but is surrounded by Sunni communities. More than 20 people were wounded in Saturday's attack.
The journalists killed in Mosul were filming for the local TV station al-Sharqiya, which correspondents say has angered the Shia-led government with its critical coverage.
In other violence, one person was reported to have been killed and three injured after a roadside bomb exploded in Muqdadiyah, north-east of Baghdad.
Meanwhile, the defence ministry said security forces had killed five militants in clashes in Baiji, and two more in the northern province of Nineveh.
Almost 1,000 people were killed in Iraq during the past month alone, the UN has said, amid fears of a return to the sectarian conflict that peaked in 2008.
Violence rose after an army raid on a Sunni Arab anti-government protest camp in April.