Will Iran loosen its grip on the internet?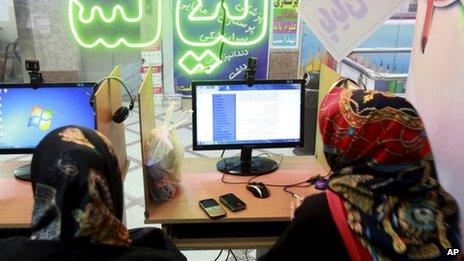 The election of Hassan Rouhani in Iran has brought with it hopes of an easing of restrictions on society, not least in the use of the internet. The authorities strictly control access to websites, but it is a policy which is under pressure, as BBC Persian's Siavash Ardalan reports.
"God freed Facebook" was the expression repeatedly posted on Iranian social media sites when a block on the internet was removed - temporarily - last month.
The phrase was a modification of the expression "God freed Khoramshahr" - which Iranians used after they liberated a big chunk of their territory from Iraqi forces some 30 years ago.
Reality hit back when officials said a technical glitch was responsible for the unimpeded online access, which was promptly blocked again.
Gone are the days when the emergence of the World Wide Web instinctively drew negative reactions from traditional Iranian clerics sceptical of globalisation's new phase.
Now Facebook is as much part and parcel of Iranian culture as Persian rugs - of course for those equipped with the means to circumvent the filtering of these sites.
Those who have no anti-filtering software but wish to access a filtered website see an index page with links to domestic websites and a "no access" message.
Until recently, users would be confronted with a harsher message notifying them that the site they wished to access had been filtered for "criminal" content.
The Iranian authorities have not yet reconciled themselves with the concept of an unfiltered internet.
They use the technology to counter and contain whatever they do not like about it: filtering, painfully slow connections and an ambitious but so far incomplete intranet project.
The latter, designed to cut Iran off from the World Wide Web and replace it with a "national information network", represents the worst nightmare of Iranian web users.
Promises that this network will enjoy speeds much faster than those currently available and will protect the country from cyber attacks have not helped to ease concerns.
A prank last year by Fars new agency that the intranet system would be inaugurated the following month drew a horrified reaction from Iran's internet users.
The end result of these restrictions has been accusations of hypocrisy against those authorities who oppose unfiltered internet but enjoy its privileges.
Even clerics originally opposed to the internet itself now have their own blogs and websites.
Social media mobilisation
The alternative could have been worse as far as regime hardliners are concerned.
The internet proved to be a huge asset for protesters opposed to the disputed results of the 2009 presidential elections, helping them to organise and get their message to the outside world.
The US government's request back then that Twitter postpone a temporary shutdown so that Iran's opposition activists could use its services did not help assuage an already suspicious Iranian leadership.
Iran's Supreme Leader, Ayatollah Ali Khamenei, appeared to be personally affronted by this intervention, and referred to the story a year after the unrest took place in a speech to his followers.
His office now actively uses Twitter but follows no one, suggesting that the authorities have yet to comprehend the concept of online dialogue and interaction as a key feature of the social media.
Beyond the challenge of dissidents using the internet to churn out their own images and messages, Iranian authorities are wary of longer term cultural challenges.
A glance at the most popular search terms on Google in Iran reveals a lot about why authorities fear what they see as the threat of cultural subversion from the internet.
A search on Google Trends reveals that keywords such as "sex", "film", "girl", "porn" and "download" are searched more than any other words by web users inside the country, including in the more traditional provinces.
However, Iranians web users have reason to be hopeful. President Rouhani is an advocate of a far less restricted virtual environment.
Some have even suggested that the recent, brief overnight access to social media was a sign of an internal struggle between Mr Rouhani's government and his hardline rivals.
The president may have won the first battle after sacking Mehdi Akhavan-Behbadi, known as the man responsible for filtering and censorship.
His pet project as Secretary of the High Council of Virtual Spaces - the official filtering and monitoring committee - was to create a system he called "smart filtering" where access to website content could be controlled without the need to block the site's URL altogether.
Mr Akhavan was replaced with an ally of President Rouhani who is supportive of looser restrictions.
For now, anti-filters, known as VPNs, are the best friend of Iranian web users.
Even though social media sites such as Facebook and Twitter are not legally banned, VPNs are. The only problem with VPNs, as far as Iran's web users are concerned, is that there are not enough of them.