Palestinian shot dead on Gaza-Israel border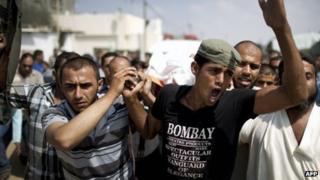 A Palestinian was killed when Israeli troops opened fire on two Palestinians at the border between the Gaza Strip and Israel, Palestinian sources say.
Israel said its soldiers had shot two men who had tried to damage a metal barrier, posing an "imminent danger".
The incident happened in the Beit Hanoun area, in the north-east.
It is unclear if the men were militants or civilians. Israel maintains a no-go area on the Gaza side of the border which it says is to prevent attacks.
The dead man was named as 36-year-old Huwayshel Hawajira.
The Gaza-based Palestinian Centre for Human Rights condemned what it called an "excessive use of lethal force" by the Israeli army. Palestinian sources said the second man was wounded and detained by Israeli troops.
There has been intermittent violence along the border since a ceasefire ended a conflict between Israel and militants in Gaza in November 2012.