Syria chemical weapons inspections 'to begin next week'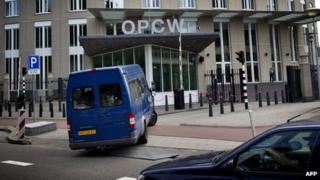 Experts from the world's chemical weapons watchdog will begin inspecting Syria's stockpile by Tuesday, a draft agreement says.
The draft also unusually authorises the Organisation for the Prohibition of Chemical Weapons (OPCW) to investigate sites not declared by Damascus.
The text is due to be voted on at a meeting in The Hague later on Friday.
It will then be incorporated into a UN Security Council resolution calling on Syria to give up its chemical weapons.
The resolution will condemn the use of chemical weapons in an attack on the outskirts of Damascus last month which killed hundreds of people - but will not attribute blame.
If Syria fails to comply, a second resolution would be required to impose measures under Chapter VII of the UN charter, including the use of force.
Appeal for funding
Earlier this month, the US and Russia asked the OPCW to decide how to ensure the "complete elimination of all chemical weapons material and equipment" in Syria by the first half of 2014.
After two weeks of discussions, the OPCW's 41-nation executive council is scheduled to vote at 20:00 GMT on the organisation's plans for meeting that deadline. They need a simple majority to be passed, but decisions are normally agreed upon by consensus.
The draft agreement calls for inspections of Syria's chemical arsenal to begin by Tuesday. An advance team would probably arrive on Monday.
Syria is instructed to provide "immediate and unfettered" access to OPCW's inspectors. If it does not, a meeting of the executive council will be called within 24 hours.
The text also authorises the OPCW to inspect "any other site identified by a State Party as having been involved in the Syrian chemical weapons programme, unless deemed unwarranted by the director general".
The OPCW usually only inspects sites that have been declared by states which have acceded to the 1993 Chemical Weapons Convention (CWC).
The draft agreement calls for urgent funding to hire inspectors and technical experts to destroy an estimated 1,000 tonnes of chemical agents and precursor chemicals, including the blister agent sulphur mustard, and the nerve agents sarin and VX.
Established to enforce the CWC, the OPCW has an annual budget of less than $100m (£62m) and fewer than 500 staff. Experts say the disarmament operation in Syria could cost billions of dollars and raise concerns about security in a country where more than two years of fighting have left more than 100,000 people dead and displaced millions.
Earlier, the Washington Post reported that US and Russian officials believed the vast majority of Syria's nerve agent stockpile consisted of "unweaponised" precursors in "liquid bulk" form that could be neutralised relatively quickly.
A confidential assessment presented to the OPCW on Saturday concluded that Syria's entire arsenal could be destroyed in about nine months, assuming that Syrian officials honoured promises to cede control of the chemical assets to inspectors, the newspaper said.
The Syrian inventory submitted to the OPCW has not been published.