Saudi women seek right to drive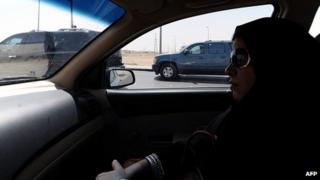 A new campaign asking for the right for women to drive in Saudi Arabia has attracted more than 11,000 signatures in support.
The campaign has set 26 October as a day for Saudi women to take to the roads - in defiance of the informal ban on women behind the wheel.
In a sign of how pervasive online social networks have become in Saudi Arabia, the campaign was started on Twitter.
It is the idea of the activist, Eman al-Nafjan, who set things in motion with a simple message saying that Saudi women would express their feelings about driving on 26 October.
The hope is that women will come out en masse to drive on that day, she told the BBC.
Ms Nafjan says the campaign is meant to be a grassroots movement open to all Saudis - men as well as women - to show their support.
Influential Saudis have given their public backing, while several videos of women driving have been posted on the campaign's website.
There is even a song linked to the campaign by the Saudi-born singer Shams, entitled It's Our Right to Drive.
Photos have also been sent in showing supporters' hands with parts of the online petition written across them.
The first point in the petition reads: "Since there is no justification for the Saudi government to prohibit adult women citizens who are capable of driving cars from doing so, we urge the state to provide appropriate means for women seeking the issuance of permits and licenses to apply and obtain them".
It goes on to say that the Saudi government must provide a valid and legal justification if it continues to deny women the right to drive.
'Window dressing'
Women activists in Saudi Arabia say the issue of being allowed to drive is key to gaining other rights.
There have been moves in this direction recently with women allowed onto the influential Shura council for the first time, as well as having the right to vote in the next municipal elections.
But many Saudi women see this as little more than window dressing and are urging deeper freedom from traditional restrictions, such as those imposed by what they see as oppressive male guardianship.
They argue that there is in any case an absurdity in the ban on driving as it means that women must rely on male drivers - thereby spending large amounts of time with a man outside their family.
In other circumstances, this would be condemned as a serious transgression of the country's deeply conservative interpretation of Islam.
Those who oppose women driving do so on the grounds that it would violate that deeply traditional code.
Just rumours
In public, there have been signs that Saudi officials may be softening their line on women driving.
That is a change from when the first campaign was staged more than 20 years ago, leading to dozens of women who took to the wheel being arrested or losing their jobs.
But Eman al-Nafjan says persistent rumours that the ban might be lifted soon are so far nothing more than that.
That has not dented the optimism of one veteran of the right to drive movement, Madeha al-Ajroush, who took part in the 1990 protest.
She has already tweeted that she is ready to drive again.