New tone, but old differences still separate Iran and West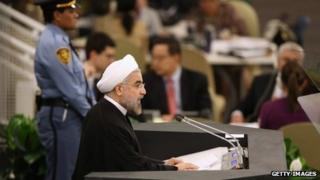 The Middle East needs a real dialogue between Iran and America and its Western friends. Whether it will get one is another matter.
The election of Hassan Rouhani as Iran's president has raised some hopes that Tehran and Washington might be able to improve a relationship that has been dysfunctional for more than 30 years. The two presidents, Obama and Rouhani, have exchanged some polite messages.
The region needs a dialogue between the West and Iran because of one of the most fundamental regional fault lines of recent years. That is the split in the region between friends of Iran and friends of the United States.
It has been especially acute since the Americans and their allies invaded Iraq in 2003, at a stroke bolstering Iran's strategic position by removing Saddam Hussein, its strongest regional enemy.
It is tempting to think of how the atmosphere in the Middle East could improve if the Americans and the Iranians were prepared to discuss, openly and without preconditions, all the crises in which they are both engaged in the region.
But the two sides are separated by politics, by deep ideological differences, and utterly different views of the world. Mr Rouhani spelt them out in his speech to the UN General Assembly.
He rejected what he sees as the Western conception of a world with a civilised centre and an uncivilised periphery. The result, he said, was a monologue in international relations.
But although the Israeli delegation boycotted his speech, Mr Rouhani used a very different tone at the UN to that of his predecessor, President Mahmoud Ahmadinejad. The new president condemned what he said was the criminal occupation imposed on the Palestinians. But he used milder language than Mr Ahmadinejad did.
But so far the hopes of a thaw in relations between Iran and the West have been based on atmospherics, not substance.
Negotiations later this week between Iran and the "P5+1" group - the five permanent members of the Security Council plus Germany - might show if there has been a change of attitude - on both sides.
So far neither side has been prepared to show a flexible enough approach in the talks about Iran's nuclear project to make progress. Both sides will remain highly cautious.
But the question is whether the talkers on either side of the table are ready to offer something that turns good atmospherics into diplomatic progress.