Syria crisis: 'Deadly blast' hits capital Damascus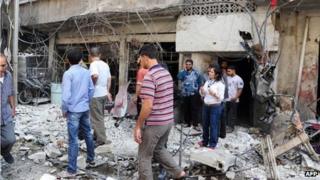 Several people have been killed and wounded in an explosion in the Syrian capital, Damascus, Syrian state TV reports.
The state new agency Sana said a "terrorist bombing" attack had taken place in the Tadamon district in the south of the capital.
Tadamon has been a battleground between rebel forces and the army for months.
Later on Tuesday, the UN General Assembly is due to meet, with much of its focus on the Syria crisis.
The UK-based activist group, the Syrian Observatory for Human Rights, says a car bomb killed at least seven people and wounded 15, some of them critically.
More than 100,000 people have died in the conflict, according to the UN, and millions have fled the country or been made homeless.