Israeli soldier killed in West Bank city of Hebron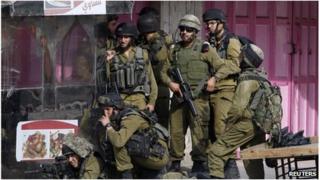 The Israeli army says one of its soldiers has been killed in a shooting in the West Bank city of Hebron.
Officials said Sgt Gabriel Koby had been on patrol in the city, which was packed with Jewish people visiting for a week-long religious festival.
The 20-year old soldier died in hospital after being shot in a suspected sniper attack.
The attack came a day a day after another soldier was found killed in the northern West Bank.
Israeli Prime Minister Benjamin Netanyahu responded to the Hebron shooting by authorising Jewish settlers to move back into a building they had previously been evicted from near the scene of the attack.
"Whoever tries to forcibly remove us from the city of our patriarchs will achieve the opposite," the prime minister said in a statement.
Hebron, whose Tomb of Abraham is a holy site for both Jews and Muslims, has long been a source of tension between Israelis and Palestinians.
On Saturday, Israeli troops found the body of Sgt Tomer Hazan near the northern West Bank town of Qalqilya.
Sgt Hazan, 20, had been lured there by a Palestinian man, Israel's Shin Bet security service said.
A suspect, named as 42-year-old Nidal Ammer, has been arrested.
Shin Bet said Mr Ammer had previously worked with the soldier. It said he had confessed to killing Sgt Hazan in the hope that he could trade the body in exchange for the release of his imprisoned brother.