Iraq violence: Deadly blasts strike Sunni mosque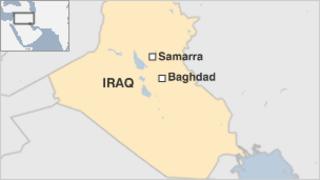 At least 15 people have been killed and several wounded after two bombs exploded at a Sunni mosque north of the Iraqi capital Baghdad, officials say.
The blasts took place during Friday prayers near the city of Samarra.
Sectarian violence has surged across Iraq in recent months, reaching its highest level since 2008.
More than 5,000 people have died so far this year in Iraq, 800 of them in August alone, according to the United Nations.
Samarra, a mostly Sunni Arab city, is 100km (62 miles) north of Baghdad.
The attack happened as worshippers entered the mosque around midday for Friday prayers.
"Suddenly a huge explosion took place," a man wounded in the attack told Reuters news agency.
"Black smoke filled the mosque, we could not see each other. I tried to stand, but I couldn't as I had some injuries in my legs."
It is no yet clear who was behind the bombings.
Militants have carried out numerous attacks on both Sunni and Shia mosques.
The spike in deadly violence in recent months comes amid rising sectarian and ethnic tensions, triggered in April by an army raid on a Sunni Arab anti-government protest camp near Hawija.
The country has also seen a spillover of violence from the conflict in Syria, which has taken on increasingly sectarian overtones.
In recent weeks, Iraqi security forces have reportedly arrested hundreds of alleged al-Qaeda members in and around Baghdad as part of a campaign the Shia-led government is calling "Revenge for the martyrs".
But the operations, which have taken place mostly in Sunni districts, have angered the Sunni community and failed to halt the violence.