Freeing of prisoners highlights Iran media divide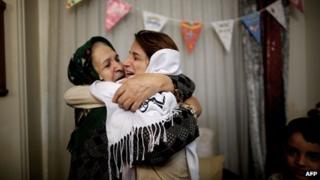 There has been a sharp contrast in the way media in Iran have covered the reported release of 11 high-profile political prisoners.
Reformist newspapers and social media users have hailed the development and congratulated Iran's new President Hassan Rouhani on remaining true to pre-election statements hinting at a new policy on political prisoners.
The conservative press, however, published only brief reports on the story, while Iranian state TV seemed to ignore it altogether.
'Breeze of moderation'
The release of the political prisoners arrested during the 2009 post-poll unrest in Iran - including noted human rights lawyer Nasrin Sotoudeh - is the front-page story for all reformist and moderate newspapers.
"Breeze of moderation reaches Evin," declares moderate daily Arman in a big headline with a violet strip - the colour of Rouhani's election campaign - and referring to Tehran's notorious Evin Prison, where many political prisoners are held.
In its editorial, the paper praises moves by the new president to act on pre-election hints at freeing political prisoners. "Our culture is the culture of forgiveness and our religion is the religion of compassion. That is why we have no animosity towards anyone except the outlaws and the enemies," Arman concludes.
"Release of some prisoners linked to 2009 events," reads the front-page headline of reformist daily Sharq. The paper interviews several political analysts, most of whom express the hope that the decision is not a one-off, and that reformist leaders Mir Hossein Mousavi and Mehdi Karroubi will also be released soon.
Another reformist newspaper, E'temad, combines the prisoner release what it sees as two other good news stories - the dismissal of the conservative head of Iran's vast private Azad University system and the Iranian national team's victory at the wrestling world championship - into one report.
"Dismissal, freedom, championship," the headline trumpets.
'Thank you, Rouhani'
Opposition websites such as pro-Karroubi Sahamnews, pro-reform Rahesabz and pro-Mousavi Kaleme, also led with reports on the release of the political prisoners.
The news was met with enthusiasm by Iran's social media users, who saw it as a sign that things have started to change in Iran.
"Happy freedom," said a post on the "25 Bahman" Facebook page under the report about the freed opposition activists. Other users were also jubilant.
"Thank God, thank you Rouhani", exclaimed user Omid Ab. "Has a revolution taken place?!" asked another, Farshad Ad, while Mostafa Moosavi exclaimed: "Tears of joy streaming. Thank you national heroes."
The release of human rights lawyer Nasrin Sotoudeh was greeted with particular joy on social media.
Prominent Twitter user Vahid, who has over 20,000 followers, pointed out that a short Facebook update from Ms Sotoudeh's husband, Reza Khandan, announcing his wife's return home had been liked by 1,200 users and shared by 500 in fewer than 30 minutes.
"Hassan [Rouhani], it appears that you're actually getting some things done," said another well-followed member of Iran's Twittersphere, Amin Sabeti, about Ms Sotoudeh's release.
Twitter user Negar Mortazavi, who describes herself as a journalist and social media observer and has more than 10,000 followers, tweeted in English: "Young artist in Tehran told me: I think we'd never done anything as correct as what we did this year [vote], I wanna hug the entire planet."
State media silence
In contrast to the celebratory response elsewhere, Iran's conservative and hard-line newspapers only mentioned the prisoner release in terse reports on their domestic news pages.
Semi-official news agencies, including hard-line Fars and the conservative Iranian Students News Agency (ISNA), did the same.
The state broadcast media even completely ignored the story, and moderate and reformist newspapers were even dropped from the regular morning press review on rolling state TV news channel IRINN.
Since the 2009 protests, state TV has studiously avoided the topic of political prisoners, and appears to be sticking to that line.
BBC Monitoring reports and analyses news from TV, radio, web and print media around the world. For more reports from BBC Monitoring, click here. You can follow BBC Monitoring on Twitter and Facebook.