Brotherhood spokesman Gehad al-Haddad held in Egypt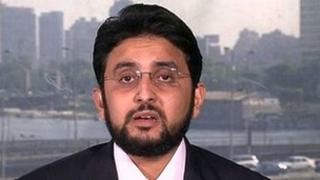 Egyptian police have arrested the Muslim Brotherhood's main English-language spokesman, state media report.
Gehad al-Haddad was reportedly found with at least one other Brotherhood official in a flat in Cairo.
Mr Haddad had served as chief of staff of the Brotherhood's deputy general guide, Khairat al-Shater, and often spoke to foreign media organisations.
There has been a crackdown on Islamist groups since the military ousted President Mohammed Morsi in July.
Earlier, the Cairo Criminal Court upheld an order to freeze the assets of senior figures in the Brotherhood and the former militant group Gamaa Islamiya, state media said.
Prosecutors imposed the restrictions on the Brotherhood's general guide, Mohammed Badie, Mr Shater and about a dozen others in July. Most have been detained over allegations of inciting violence and murder.
Hundreds of people demanding Mr Morsi's reinstatement, most of them Brotherhood members, were also killed in clashes when security forces stormed two protest camps in Cairo last month.
'Incitement'
The state-run newspaper, al-Ahram, said Mr Haddad had been arrested on Tuesday along with the former governor of Qalyubia province, Hossam Abu al-Bakr, in a flat in the eastern Cairo suburb of Nasr City.
Security sources told the Reuters news agency that a third Brotherhood official had also been detained.
State television did not say what charges Mr Haddad faced, but al-Ahram reported that he was suspected of inciting violence and murder. He had been transferred to Tora prison on the outskirts of the capital, it added.
The son of Mr Morsi's former foreign affairs adviser Essam al-Haddad, Mr Haddad is a senior adviser and media spokesman for the Brotherhood. He studied at De Montfort University in the UK and is fluent in English.
He served as media strategist for Mr Morsi's presidential campaign in 2011, and was interviewed frequently by foreign TV stations and newspapers before and after the president was deposed following mass protests. He was also active on social media, tweeting as @gelhaddad.
In a separate development on Tuesday, two soldiers were killed and two others wounded by gunmen in al-Salihiya al-Jadida, in Sharqiya province north-east of Cairo.
It is not known whether the incident is linked to the military's offensive against jihadist militants in the Sinai peninsula, which has triggered a series of attacks on security targets in the past two weeks.