Syria crisis: Damascus diaries part two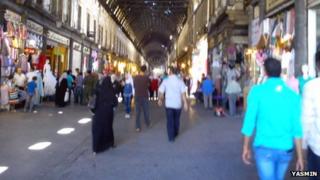 As the crisis in Syria continues to unfold, people living in the capital of Damascus share their everyday experiences.
The diaries are translated by BBC Arabic
Yasmin
Yasmin is a single Damascene in her 30s. She works in the private sector and describes herself as being of the Alawite sect and from a middle-income family.
Her family has returned to her ancestral village because of the fighting but Yasmin says her soul resides in Damascus and she couldn't bring herself to leave.
Here is the second instalment of her Damascus diary.
12 September 2013
I decided to go to Hamidieh to buy some things I needed, but when you decide to wander in Damascus you find barriers everywhere. You find security and Assad supporters, and you also see buses punctured with gun shots driving by as if life is normal.
Markets are covered with darkness as a result of the frequent power outages. The price of items has increased three or five times and shops are almost empty.
On the way to the market you see street vendors, something that was fought and had started to disappear before the revolution.
Interestingly, you find street vendors under al-Thawra Bridge selling used goods, such as air conditioners and chairs, that look like they were stolen from houses and are sold at cheap prices.
On the way back I decided to have bozah (traditional Arabic ice cream) and discovered that they have stopped making them because of the frequent power outage and high cost of materials. Ultimately Bozah has been replaced with regular ice cream.
Umm Ja'afar
Safaa, 36, is a mother-of-three and prefers to be known by her nickname Umm Ja'afar.
She was born in Damascus though her family originally comes from the coastal city of Latakia.
She is a public sector employee and says despite her workplace sometimes coming under mortar fire, she is trying to carry on with life as normal as his way to support the state.
Here is the second entry in her Damascus diary.
13 September 2013
Today is a Friday, a weekend day. Friday is the Syrian day of rest; we don't know when these days will return.
Now Friday has become the day of blood and death.
People have become prisoners in their own houses, they wait for prayers to end to watch the latest news.
We have become accustomed to bombings and attacks after prayers.
Those who claim they are Muslims have stolen our freedom in the name of liberty.
Today I paid a visit to my neighbour who is an injured soldier serving with the Syrian army.
He told me: "Out of every 10 militants they catch or kill, they find six from Chechnya, Afghanistan or Libya."
It reminded me of when I once visited a military hospital and found four Libyan militants being treated.
One of [the Libyans] who opposed Bashar al- Assad told me, "You idealise one man on the account of an entire country".
I told him, "You are wrong. This person is the key to our security. We have seen what destruction and death the Arab revolutions have brought".
We have seen what happened to these countries and understand what is happening. The leader is the captain of the ship and if he leaves it will sink.
Today is Friday and I will not give up my Friday. I will take my children and go out because school is about to start and I refuse to imprison them.