Syria talks: Can US-Russia deal bring hope to Syria?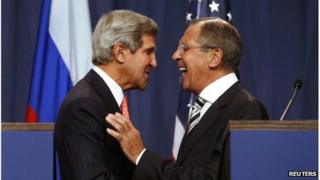 It has been a remarkable few days here by the shores of Lake Geneva.
A hasty gathering which many saw as destined to fail has produced - after many long hours back and forth - a detailed plan to rid Syria of its chemical weapons.
We now know that it is an idea that has been simmering away inside an international slow cooker for a year or more.
But after airily dismissing it in London just last Monday as something that would never work, the American Secretary of State, John Kerry, is now a champion.
Since Thursday evening, we have watched as Mr Kerry and his Russian counterpart, Sergei Lavrov, have thrashed out the details, along with their large teams of experts.
From our vantage point atop the roof of a petrol station next to Geneva's Intercontinental Hotel, we watched as Mr Lavrov, jacket off, sat by the pool, a phone glued to his ear.
Sirens blared as the two top diplomats came and went, paying a visit to the UN's special envoy, Lakhdar Brahimi, and a courtesy call on former UN Secretary General Kofi Annan.
In the lobby of the hotel, journalists poked about in the hope of picking up titbits. One colleague even managed to find her way into the conference room, taking pictures on her Blackberry before being ejected.
But after two-and-a-half years during which Russia and the United States have mostly been at loggerheads over what to do about Syria - and three days after Russian President Vladimir Putin poured scorn on American foreign policy - the two sides have finally collaborated on an issue fraught with political and technical dangers.
Threat of force?
It is all going to happen remarkably quickly.
Syria has just a week to hand over a detailed list of everything it has. And Syria's entire chemical weapons capability will be destroyed by the middle of next year.
And if Syria doesn't comply? Well, then it falls to the UN Security Council to impose measures under Chapter VII of the UN charter. That could - but does not necessarily mean - the use of force.
Mr Kerry said any UN measures would be, as he put it, "commensurate" with the violation. But he also made it clear that US President Barack Obama has not ruled out the unilateral use of force.
The two diplomats thanked each other effusively - Mr Lavrov said Mr Kerry had made it possible to leave behind "irrelevant rhetoric".
Like his American counterpart, he spoke of the possibility that this bold but narrow initiative could be translated into something bigger - an international peace conference to try to bring an end to Syria's long torment.
And so, after a little over 36 hours of high-stakes diplomacy, the deal was done and John Kerry went for a run by the lake.
With Vladimir Putin's help, Barack Obama has stepped back from the brink.
An unlikely turn of events and, perhaps, a small glimmer of hope for Syria.