Egypt hit by pro and anti-Mohammed Morsi protests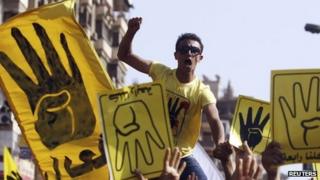 Supporters and opponents of Egypt's ousted Islamist President Mohammed Morsi have clashed during protests a day after a state of emergency was extended by two months.
The pro-Morsi demonstrations called by the Muslim Brotherhood appeared to be bigger than in recent weeks.
One person was killed and at least four injured in clashes after Friday prayers in the coastal city of Alexandria.
In Sinai, the army has intensified its offensive against Islamist militants.
They have launched almost daily attacks on security targets since Mr Morsi was ousted by the military in July.
On Thursday the president's office said that the state of emergency was being extended for a further two months because of the security situation.
Unrest in Egypt rose after President Morsi was overthrown on 3 July. On 14 August two pro-Morsi camps in Cairo were broken up by the security forces, killing hundreds of protesters and dozens of security personnel.
It was Egypt's bloodiest day since the pro-democracy uprising two years ago ejected long-time president Hosni Mubarak.
However since then the worst of the violence has abated.
Correspondents say that the latest security crackdown has affected the Muslim Brotherhood's ability to mobilise in the streets to protest against the removal of Mr Morsi.
But on Friday, demonstrations appeared to be bigger than usual across the country and several descended into violence.
In Alexandria, hundreds of Brotherhood supporters marched from a main mosque to a major thoroughfare, where they confronted an anti-Morsi rally.
Officials said that the two sides hurled stones at each other as gunshots rang out. Security forces fired tear gas and arresting a number of protesters.
Demonstrations also took place in Cairo and in the industrial city of Mahallah and in Fayoum, Assiut and Qena.
Meanwhile, in the Sinai, helicopter gunships are reported to have targeted suspected Islamic militant hideouts in villages south of the town of Sheikh Zuweyid and farmlands near the city of el-Arish, a military official told AP news agency.
In recent days the Egyptian army has launched a major military campaign against militants in the northern Sinai Peninsula.
Government spokesmen have said they intend to "fully cleanse" the area of militants, and military sources say 22,000 soldiers have been deployed to help bring this about.
Egyptian military sources say the campaign will take at least six months.
The Egyptian army has cracked down on Sinai militants on occasions in the past, but experts say this time the operation is of a different order of magnitude.