Global media differ over Obama's Syria speech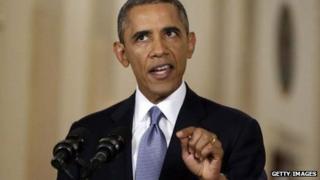 US President Barack Obama's speech postponing a congressional vote on military action in Syria attracted considerable comment in the world's media on Wednesday, despite coming too late for most daily newspapers.
Some commentators see the speech as a success for Russian diplomacy, but others say it may only be a pause in the pressure on Syrian President Bashar al-Assad.
'All options open'
In the Middle East, the speech came too late to prompt much comment in Arabic or Israeli media, although the Russian proposal itself remains a major topic of debate.
Among the influential London-based Arabic press, Saudi-owned Al-Hayat's headline read: "Obama gives a chance to diplomacy in Syria". However, other papers see no reason for Mr Assad to celebrate.
The pan-Arab paper Al-Quds al-Arabi says President Obama has left "all options open", and independent Al-Arab al-Alamiyah believes Obama won a "small victory" over Syria through the prospect of putting the country's arsenal under international monitoring.
'Success for Russian diplomacy'
In Russia itself, comment in social media and elsewhere sees the speech as a triumph for Russia.
Margarita Simonyan, the editor of the state-run English-language satellite TV channel RT, tweeted: "Obama asks Congress to postpone the vote on Syria because of Russia's proposal. I can't recall such a success for Russian diplomacy. Bravo, I say."
The Komsomolskaya Pravda tabloid tweeted: "Obama postponed an attack on Syria after Russia's proposal. What other diplomatic front can we now triumph on?"
Fedor Lukyanov, a prominent pundit on international relations, told Interfax news agency Obama had been waiting for an excuse to postpone the attack. "It's been written on Obama's face all along that he doesn't want to get involved in a war. Obama has no intention of launching an attack on Syria at any price".
The Chinese official media also see the speech as a triumph for Russia. The official Xinhua news agency set the tone by saying Obama "embraced the Russian proposal... as a way out of the bind he found himself in after his push for congressional authorization of a military strike yielded little result".
'Open retreat'
The official media in Iran - Syria's main regional ally - dubbed President Obama's speech an "open retreat", to quote Radio Iran and the Keyhan newspaper. The Jomhuri-ye Eslami newspaper said Mr Obama was aware of his "unprecedented isolation" over an attack on Syria.
In Turkey, by contrast, the press - especially pro-government papers - reflected frustration at diplomatic steps that Zaman newspaper says have "turned into a plan to rescue Assad".
The Posta tabloid remarked bitterly: "The US doesn't care about a ceasefire... That's why it says: 'Leave the chemicals and return to the other weapons'".
The Islamic daily Yeni Mesaj concluded: "They have thrown in the towel."
'Stark terms'
European commentators say Mr Obama is trying to balance a delay in air strikes with a continued focus on the responsibility of the Assad government for chemical attacks.
Matthias Kolb on the German Sueddeutsche Zeitung website said: "Before Obama's speech, 80% of Americans were not convinced that an air strike would make their lives safer. It may be doubted that Obama has turned this mood around."
Andreas Ross on the Frankfurter Allgemeine Zeitung website said that Obama's "polished dissection of the most frequent objections [to air strikes]... was at best an act of self defence."
On the website of France's Le Figaro, Laure Mandeville says Obama "tried to reply systematically to the doubts and questions of Americans on the need for limited military action in Syria... in stark terms".
Vittorio Zucconi in Italy's La Repubblica says the president "has no desire to launch military action and is desperately trying to find a solution that meets his promise to punish Assad without bombing Syria".
BBC Monitoring reports and analyses news from TV, radio, web and print media around the world. For more reports from BBC Monitoring, click here. You can follow BBC Monitoring on Twitter and Facebook.