Israel pays $1m to family of 'Prisoner X' Ben Zygier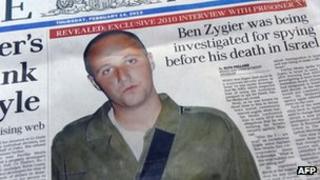 Israel is to pay $1.1m (£710,000) to the family of an alleged Mossad spy who killed himself in prison in 2010.
The justice ministry said the deal with Ben Zygier's relatives was not an "admission of alleged wrongdoing".
A judge found in April that the Israeli Prison Service had been negligent in its supervision of Zygier, who was found hanged in his isolation cell.
For years Israel did not acknowledge the Australian-Israeli's existence, leading him to be called "Prisoner X".
In February, the Australian Broadcasting Corporation revealed his identity, as well as the circumstances of his detention. They had been subject to reporting restrictions in Israel.
Israeli officials have never published the charges in the case but claim he had jeopardised national security and agreed to being held in isolation while he prepared his defence.
ABC reported in May that Zygier had unwittingly sabotaged a top secret spy operation aimed at bringing home the bodies of Israeli soldiers missing in Lebanon.
'Supervision defects'
Zygier was arrested in January 2010 by Israel's internal security service, Shin Bet.
He spent months incarcerated in a windowless cell at the high-security Ayalon prison near Tel Aviv, before hanging himself with a sheet in the shower in December 2010.
A judicial inquiry, the results of which were published in April, found that there had been staff shortages at the jail at the time of Zygier's death.
This meant that a special unit that monitored his cell and one other was not operating. A control room that was tasked with covering for the unit did not have access to a crucial CCTV camera in Zygier's cell and a monitoring diary was not filled in.
"Failure by various elements in the Israeli Prison Service caused his death," central district court president Daphna Blatman said.
However, the attorney general concluded that despite the "supervision defects" there was insufficient evidence to bring any charges.
On Wednesday, the justice ministry announced in a statement that it had agreed a financial settlement with Zygier's family. His parents had threatened to bring a legal case against the state of Israel, claiming negligence and seeking compensation.
The ministry stressed that the deal was not an "admission of alleged wrongdoing" but was "to avoid the affair going to court, which would lead to the publication of numerous details of the case which could cause serious harm to national security".