Media ponder G20 summit winners and losers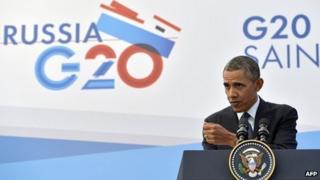 Russian and US media commentators are divided over whether US President Barack Obama or his Russian counterpart Vladimir Putin had the upper hand on Syria at the G20 summit in St Petersburg.
Elsewhere, many criticise the "dysfunction" which marked the meeting. There are warnings from China that the voice of emerging countries must be heard, while two papers in the Middle East see a new Cold War taking shape.
Russia
Andrey Kolesnikov in Kommersant daily
"Vladimir Putin listed those who are 'on our side'… China, India, Indonesia, Argentina, Brazil, South Africa. In other words, countries whose participation in military action against Bashar al-Assad would be hard to even imagine. Thus, if one were to describe the situation at the summit in combat terms… the victor was probably Barack Obama."
Vasiliy Baranenko in Tvoy Den daily
"[Vladimir Putin] made it clear that he will not leave Bashar al-Assad in the lurch... It cannot be ruled out that this tough position by the head of state may influence Obama's final decision on whether to launch a military operation against Damascus."
Melor Sturua in Moskovskiy Komsomolets daily
"White House officials made a point of stressing that their president arrived not in Russia but at the G20 summit. This may well be the case. Yet the mood of the summit was not to his advantage."
Aleksandr Zhestkov on private REN TV
"[Obama] must have felt very lonely in this enormous and beautiful Constantine Palace… The fact that G20 leaders were not ready to give their unequivocal support for military action against Syria and, what is more, that some were categorically against it became clear almost immediately."
US
Peret Nicholas, Paul Sonne in The Wall Street Journal
"President Barack Obama fell short in his bid to rally international support for a US military strike on Syria, failing to overcome divisions at a summit of world leaders before flying home to face sceptics in Congress and the American public."
Peter Baker, Steven Lee Myers in The New York Times
"The deep divisions on display here at the Group of 20 summit meeting raised the stakes even further for Mr Obama as he seeks authorisation from Congress for a 'limited, proportional' attack."
China
Editorial in Global Times daily in English
"Emerging countries like China and Russia must establish their own mechanisms and ensure that the G20 operates on two wheels, both Western and non-Western. The US, despite its colossal global clout, has to pay attention to other countries."
Editorial in Hong Kong's Ta Kung Pao daily
"The inclusion of the Syria crisis at the G20 may be just the beginning. More global and regional hotspots will be included on the agenda in future. The G20 will become rapidly politicised and will play an increasing, big role in building an international order. This is a major trend, and the G20 will inevitably stride in this direction irrespective of the wishes of the US and other Western countries."
Germany
Stefan Kornelius in the Sueddeutsche Zeitung daily
"The community of peoples has presented a frightening picture of its dysfunction. Even to reach a common verdict on an appalling injustice such as a gas attack seems to be impossible. Even less does a sufficiently large number of states feel called upon to debate an appropriate response to this breaking of a taboo. Selfishness on this scale on the part of states... bodes ill for the future."
Manfred Schaefers in the Frankfurter Allgemeine Zeitung daily
The conflict between the host, Putin, and US President Obama over the best response to the use of chemical weapons in the civil war-torn country overshadowed all economic issues. But even if the situation on financial markets has calmed down, there would have been an urgent need for an intense debate on undesirable economic policy developments."
UK
Editorial in The Guardian
"Friday marked the G20 forum's first big test on a major non-financial crisis. Its performance can only be described as a failure. Not because the St Petersburg summit failed to agree on a solution to the catastrophe in Syria… No, the far graver problem exposed this week was that of world leaders palpably losing faith in the very process of international diplomacy that they are meant to be driving forward."
Peter Foster in The Daily Telegraph
"After a week in which the voices of opposition to punitive strikes have grown louder both in Congress and among a war-weary public, Mr Obama returned from the G20 summit in St Petersburg acknowledging that he faced a 'heavy lift' to win authorisation to use force."
France
Pierre Rousselin in Le Figaro daily
"French and British diplomacy having relegated themselves to the sidelines, the European Union is coming out in support of Vladimir Putin rather than Barack Obama on the Syrian issue. Such is the pitiful and pretty predictable outcome to which a series of disastrous decisions born of the completely natural outrage felt at the chemical gas attack in Damascus on 21 August has led."
Turkey
Fatma Barbarosoglu in Yeni Safak daily
"Our eyes and ears are on Putin! Our prime minister went to Russia to join the G20 summit. We are in such a state that instead of focusing our attention on Obama, we have focused it on the words that will come out of Putin's mouth on Syria."
Middle East
Syrian government-owned Al-Thawrah daily
"For a long time now the US administration has been talking about a hypothetical threat of chemical weapons, supposedly used by the Syrian government... And President Barack Obama now claims in St Petersburg that the aim of the attack he plans to carry out against Syria is to remove this danger… President Obama speaks of a limited attack on Syria as if he is talking of a surgical operation."
Editorial in pan-Arab Al-Quds Al-Arab daily
"[Obama] achieved partial progress on the international level that is in his interest, starting with the Chinese, who, despite their opposition to military action, have said their position differs from Russia's in that they could not turn a blind eye to the explosive situation in Syria and the need for rapid solutions."
Saudi Arabian daily Okaz:
"It is as if the Cold War was returning once more. Putin, who greeted Obama with a stiff smile and a serious handshake - a clear sign of the tension between the two - tried to exploit the elite gathering of decision makers in a palace from the era of the tsars to sway Obama from punishing the regime in Damascus."
Ali Reza Rezakhah in Iranian daily Khorasan
"More than two decades after the end of the Cold War, it seems that we have witnessed the shaping of a new one in St Petersburg. Besides issues such as the missile defence shield, Nato's eastward expansion and issues related to human rights, the Syrian crisis has played the biggest part in the severing of ties between Moscow and Washington... Time will tell if the Middle East turns into another Vietnam for the United States."
BBC Monitoring reports and analyses news from TV, radio, web and print media around the world. For more reports from BBC Monitoring, click here. You can follow BBC Monitoring on Twitter and Facebook.