'No decision' in Egypt on dissolving Muslim Brotherhood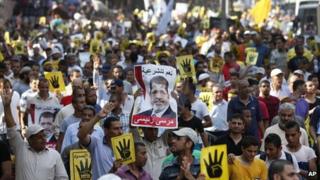 Egypt's government has denied state media reports that it has decided to dissolve the Muslim Brotherhood.
A social solidarity ministry spokesman was quoted as saying it would revoke the Islamist group's non-governmental organisation status "within days".
But a prime ministerial aide, Sherif Shawki, told the BBC the solidarity minister had not issued any decision.
The military authorities have launched a crackdown on the group since ousting President Mohammed Morsi on 3 July.
Dozens of senior Brotherhood figures, including its general guide Mohammed Badie, have been detained over allegations of inciting violence and murder.
Hundreds of people demanding Mr Morsi's reinstatement, most of them Brotherhood members, have also been killed in clashes with security forces.
The interim government portrays the crackdown as a struggle against "terrorism".
During unrest on Friday:
Two people were killed in clashes as thousands of Morsi supporters took to the streets of cities and towns across Egypt, including Cairo, Alexandria and Suez, chanting "down with military rule"
One person died when three men with swords attacked demonstrators in Alexandria, according to the Reuters news agency. State TV reported that gunmen had opened fire on security forces
Another pro-Morsi protester was killed in clashes with government supporters in Kaft al-Batikh, a town in the northern province of Damietta
The protests came a day after Interior Minister Mohammed Ibrahim survived an apparent assassination attempt, in which a car bomb was detonated beside his convoy as it travelled through Cairo.
One of the 22 people who were wounded in the incident died on Friday, officials said.
The Muslim Brotherhood issued a statement condemned the attack, saying that it was guided by "Islamic faith" and "peaceful civil resistance".
'No alternative'
The 85-year-old Islamist movement was banned by Egypt's military rulers in 1954, but registered itself as an NGO in March in response to a court case bought by opponents who contested its legal status.
The Brotherhood also has a legally registered political wing, the Freedom and Justice Party, which was set up in June 2011 as a "non-theocratic" group after the uprising that forced President Hosni Mubarak from power.
Following the overthrow of President Morsi and the suspension of the Islamist-friendly 2012 constitution, Social Solidarity Minister Ahmed al-Borai and an administrative court in Cairo were tasked with reviewing the Brotherhood's NGO status.
On Monday, a judicial panel issued a non-binding recommendation to the administrative court supporting one legal challenge, which argued that the NGO registration was illegal because the Brotherhood-led government had effectively issued a licence to itself.
Mr Borai meanwhile gave the Brotherhood until Thursday to address accusations of illegal activities. Under a 2002 law, NGOs are banned from engaging in politics or forming militia.
But no representatives presented arguments to the minister, leaving him "no alternative but to take necessary legal action and dissolve it within days", spokesman Hani Mahanna told the Mena state news agency.
On Friday, Mr Mahanna was also quoted by the state-run al-Akhbar newspaper as saying: "The minister's decision has in fact been issued but it will be announced at the start of next week at a news conference."
Al-Akhbar said the decision stemmed from accusation that the Brotherhood had used its headquarters in Cairo to open fire on opponents and to store weapons and explosives when millions of people took to the streets demanding the resignation of Mr Morsi.
However, the report was swiftly denied by the prime minister's office, with Mr Shawki telling the BBC that he had been told by Mr Borai that he was still considering the Brotherhood's status and had not made any decision.