Omani newspaper suspended for article on homosexuality
By Sebastian Usher
BBC News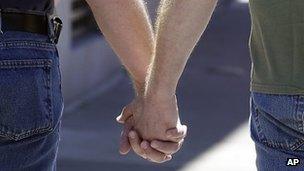 A newspaper in Oman has been suspended over a sympathetic article on homosexuality in the Gulf state that it published last week.
The article in The Week suggested that Oman was more tolerant about people's sexuality than other Gulf states, even though homosexuality is illegal there.
The article was denounced across online social networks in Oman and even by the country's journalists' association.
As in all Gulf states, Oman does have an underground gay scene.
It is widely seen as more tolerant than many of its neighbours as long as activities remain discreet.
The Week has by far the largest circulation of any English-language weekly or daily paper in Oman.
The entire front page of its latest edition was given over to an apology for the original article.
The apology read in part: "There was never any intention to knowingly or unknowingly cause harm, offend or hurt the sentiments of the people with our article last week."
The extravagance of the apology shows just how controversial it is to broach the issue of homosexuality with any sympathy in Oman.
'Advocating' homosexuality
The article in question - which is now offline - traced the story of a young gay man in the country under the headline, The Outsiders.
A member of the influential Shura Council, Tawfiq al-Lawati, tweeted that the article was advocating homosexuality and that it suggested Oman was a safe haven for gays.
He called for the information ministry to take action against the paper for breaking the country's press code.
Mr Lawati's tweets received considerable support, although some Omanis countered that the article was simply documenting a truth about the country and it was the job of the press to reflect reality.
The maximum penalty for homosexuality in Oman is three years in prison, whereas in other Gulf states, longer sentences, flogging and even the death penalty are not unknown.