Egypt shuts down four TV stations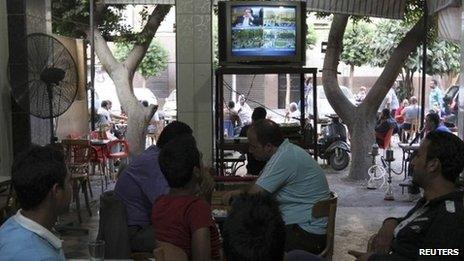 An Egyptian court has ordered the closure of four television channels that have been accused of sympathising with the Muslim Brotherhood.
They include the Brotherhood's own station, Ahrar 25, and the Egyptian arm of Al-Jazeera.
Meanwhile, the Egyptian army has launched helicopter strikes against suspected militant targets in the Sinai peninsula, killing a number of people.
The army is trying to assert control over the area bordering Gaza.
The closure of the television stations follows a crackdown on media seen as sympathetic to the deposed President Mohammed Morsi, who was overthrown by the army on 3 July, and the Muslim Brotherhood he comes from.
Several channels were forced off the air following the military intervention.
Now, an administrative court in Cairo has ordered Al-Jazeera's Mubashir Misr outlet to be shut down, along with Ahrar 25 and two other Islamist channels, Al-Quds and Al-Yarmuk.
On Monday, Egypt expelled three foreign journalists working for Al-Jazeera's English language channel, saying they did not have correct press accreditation.
Mr Morsi is in custody awaiting trial.
Prosecutors announced this week that he will be tried on charges of inciting the murder of protesters last year.
The Muslim Brotherhood has called for protests in Cairo on Tuesday, under the slogan: "The coup is terrorism."
The state news agency, Mena, says security forces have sealed off some roads in the capital, and military vehicles are blocking the entrances to Rabaa al-Adawiya Square and Tahrir Square.
A resumption in national rail services has also been postponed.
No trains have run for 17 days, but they were due to start again on Tuesday.
However, a source at Egypt's railway operator told the al-Masry al-Youm news website that had been delayed until Wednesday "for security reasons".
Separately, Egypt's government continued its battle against Islamist militants in the Sinai peninsula on Tuesday, with helicopters launching a series of strikes.
At least eight people - said by security sources to be militants - were reported to have been killed, and others injured.
Three houses were destroyed and part of a nearby mosque was damaged, a witness told the Associated Press.
The military said weapons caches were destroyed.
Islamist attacks in the Sinai surged following the overthrow of Mr Morsi, and the army has been trying to re-assert control.
It has been targeting tunnels used by militants and smugglers under the border with Gaza.
Thirteen homes in the Rafah border town were bulldozed in the past two weeks and tunnels caved in to prepare for a possible buffer zone, according to officials.