Mideast press uneasy after Obama's delay on Syria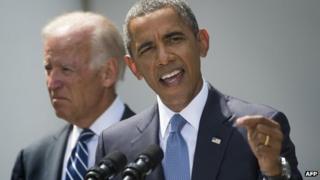 Newspapers across the Middle East are busy discussing prospects for Western military intervention in Syria after US President Barack Obama decided to delay possible action until a vote in Congress.
While there is sense that a strike against President Assad's forces remains on the cards, some pan-Arab commentators criticize President Obama for what they see as a lack of resolve in tackling the Syria crisis.
In Syria itself, a government daily says his announcement on Saturday signalled the start of a US "retreat", while an Iranian newspaper writes of a failure to build international consensus for a military campaign against President Assad's forces.
There is strong opposition to the possibility of foreign strikes against Syria in Egyptian newspapers, where one editorial accuses the West of trying to "destroy" Arab countries.
But a newspaper in Israel argues that the delay in military action works into President Assad's hands, and an editorial in Qatar agrees that it is long overdue.
Commentary in pan-Arab, Saudi-owned daily Al-Hayat:
"The timing is no longer important. What is more important now is that Barack Obama's blow to Bashar al-Assad will inevitably occur. It is a new Obama, whose tough face we have not seen since he was elected."
Commentary in pan-Arab, Saudi-owned daily Al-Sharq al-Awsat:
"No matter what Obama decides on the scope and nature of the strike, he will obviously remain a weak president even if he chooses war... Obama seems to be afraid of any consequences such a strike may entail. What he wants is a quick, limited and narrowly focused strike. He does not want to be dragged into a wider regional war."
London-based pan-Arab newspaper Al-Arab al-Alamiyah:
"Will the Obama administration make up its mind and realize that stability in the Middle East requires the removal of the Syrian regime? Otherwise, it will contribute once again to dispelling any hope of restoring some stability in the Middle East."
Commentary in government-owned Syrian newspaper Al-Thawra:
"Regardless of whether the [US] Congress gives the red light or the green light to an aggression, and of whether the prospects for war have been enhanced or reduced, by prevaricating or through implication President Obama yesterday announced the start of a historic US retreat."
Commentary in government-owned Syrian newspaper Tishrin:
"The USA is planning to attack a country in which chemical weapons have been used by terrorists, and the pretext of using these weapons will lead to war and aggression... The USA distorts facts and fabricates events to justify its wars and aggression."
Editorial in conservative Iranian newspaper Siyasat-e Ruz:
"Obama is using the red line of chemical weapons as a pretext... to go back on his pledges to American people and the world. Obama will emerge as the loser if he wages a war against Syria even if the USA achieves victory, because the world will become more familiar with his false humanitarian claims."
Commentary in hardline Iranian newspaper Jomhuri-ye Eslami:
"The USA has failed to build an international consensus for a military strike against Syria. The US is only beating the drums of war with the help of France, Turkey, Saudi Arabia and Qatar. Although this war can be initiated by the warmongers in the White House, it certainly cannot be concluded by Washington."
Editorial in Egypt's state-owned daily Al-Jumhuriyah:
"The USA, which has killed, maimed and displaced millions of Arabs and Muslims in the Middle Eastern wars in order to steal oil and strengthen Israel, has no merciful heart to look at hundreds of Syrians who were allegedly killed with chemical weapons. The USA is not a messenger of God who will take revenge against the killers, as it claims. In actual fact, it uses fake pretexts to play its real role in destroying the Arab countries and their armies so that Israel will enjoy supremacy and security."
Commentary in Egypt's pro-reform liberal daily Al-Shuruq al-Jadid:
"The poor and children will bear the brunt of the new US adventure. Syria will become more divided, and new terrorist groups will spring up after Washington gives them justification to strike here and there. The innocent in the West will also pay the price as was the case on 11 September 2011."
Editorial in Qatar's leading independent daily Al-Sharq:
"Yesterday's announcement by US President Barack Obama that he decided to launch a military strike against the ruling regime in Syria is a step forward in terms of bringing Bashar al-Assad and his suppressive militias to account for genocide and crimes against humanity. However, this announcement came too late following more than two-and-a-half years of horrible massacres perpetrated against the Syrian people."
Dubai-based newspaper Khaleej Times, part-owned by the UAE government:
"If the US directly attacks Syria, the real cause will not be the recent chemical attacks... The Syrian conflict is a proxy war being waged against Iran by the United States, conservative Arab oil producers, and three former Mideast colonial powers, Britain, France and Turkey who are seeking to restore their domination in the region."
Israeli centrist mass-circulation newspaper Yediot Aharonot:
"Senior Israeli officials were stunned last night by US President Barack Obama's speech... Al-Assad is sitting rubbing his hands gleefully, and the Iranians are laughing all the way to the nuclear bomb, not to mention the fact that they have now given Al-Assad time to set up his defences."
Website of liberal Turkish daily Taraf:
"The huge gap between the envisaged strategy and the targeted outcome should be reason enough to oppose this intervention. This is an inconsistent strategy even with a sound mind."
BBC Monitoring reports and analyses news from TV, radio, web and print media around the world. For more reports from BBC Monitoring, click here. You can follow BBC Monitoring on Twitter and Facebook.