Lebanese clerics charged over deadly Tripoli bombings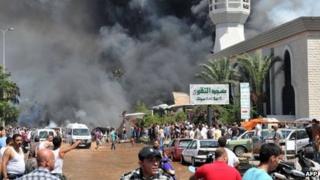 Lebanon has charged two religious clerics over bombings which killed at least 42 people at two mosques in the northern city of Tripoli last week.
Sheikhs Hashem Minkara and Ahmad Gharib, along with three other men, are suspected of forming an armed cell to attack government institutions.
The clerics are thought to have close ties to a Sunni group linked to Syria.
The Tripoli blasts are considered the deadliest attack in Lebanon since the end of the civil war in 1990.
More than 400 people were injured in the explosions, which took place shortly after Friday prayers ended on 23 August.
War in neighbouring Syria has raised sectarian tensions between the city's Sunni Muslim and Alawite communities.
'Terrorist acts'
Military prosecutors accuse Sheikh Gharib and another Lebanese man of setting up a cell "to carry out terrorist acts in Lebanon, with the aim of killing political and religious figures".
Sheikh Minkara meanwhile is alleged to have known about the Tripoli attacks and "not having alerted authorities".
The court also charged two Syrians, including an army officer, in absentia for placing the bombs outside the al-Taqwa and al-Salam mosques in Tripoli.
Correspondents say the speed in naming and charging suspects is unusual in Lebanon, where many political assassinations remain unresolved.
Tripoli, a city of nearly 200,000 people and Lebanon's second largest, is one of the country's most volatile sectarian fault lines, with a small Alawite population living in the midst of a Sunni majority.
The Alawite community tends to support Syrian President Bashar al-Assad, with Sunnis mostly backing the rebels fighting him.
Observers say the targets of last Friday's attacks may have been two preachers known for their opposition to the Syrian government and its Lebanese ally, Hezbollah.
The explosions occurred a week after after a car bomb in a Shia district of the capital Beirut killed 27 people.