Egypt crisis: Morsi supporters stage rallies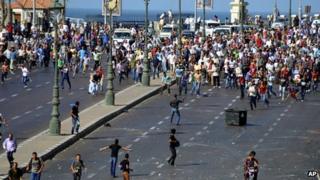 Thousands of supporters of ousted Egyptian President Mohammed Morsi have taken to the streets in their largest protests for two weeks.
Clashes between police and Muslim Brotherhood supporters have broken out in several cites and at least six people are said to have been killed.
Earlier this month hundreds of protesters died when security forces stormed pro-Morsi camps in the capital.
The Brotherhood is demanding the reinstatement of Mr Morsi.
Egypt's military-backed interim government has cracked down on the Brotherhood since the army deposed Mr Morsi on 3 July, arresting most of its leaders.
On Thursday police detained Mohammed al-Beltagi, secretary-general of the Brotherhood's Freedom and Justice Party (FJP), who is accused of inciting violence.
Scattered protests
Just after Friday prayers, about 500 protesters left Cairo's central Sahib Rumi mosque chanting: "The interior ministry are thugs" and "Egypt is Islamic, not secular".
Correspondents said demonstrators appeared to have held numerous scattered protests and avoided Cairo's main squares where riot police and tanks were deployed.
The interior ministry had warned that security forces had the right to use live ammunition against protesters who attacked public institutions.
By mid-afternoon, thousands were marching in several Cairo districts calling for the reinstatement of Mr Morsi - Egypt's first democratically elected president.
Protests were said to be generally peaceful in comparison to recent unrest, although some clashes did break out, both between police and protesters and between pro- and anti-Morsi groups.
Violence was reported in Alexandria, Port Said and in the Nile Delta town of Zagazig.
The Muslim Brotherhood said seven people had been killed nationwide but a government health official put the figure at six.
Egypt's state-run Mena news agency said unidentified gunmen in two cars opened fire on a police station in the Cairo neighbourhood of Heliopolis on Friday, killing an officer and a civilian.
The Brotherhood-led Anti-Coup Alliance had called for the rallies to be peaceful.
"We welcome any calls for calm, but we will continue protesting in a peaceful manner," said alliance member Salah Gomaa at a news conference.
On Thursday, officials said Mr Beltagi and Former labour minister Khaled al-Azhari - who served under Mr Morsi - were arrested in a flat on the outskirts of Cairo.
Police have already arrested the Brotherhood's most senior figure, Mohamed Badie, and his deputy Khairat al-Shater. They have been charged with inciting violence.
Hundreds of other members of the Brotherhood, the Islamist movement from which Mr Morsi comes, have also been detained.