Syria: Getting on with life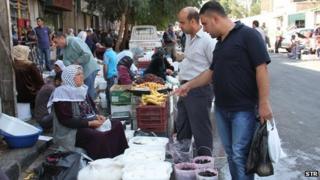 The crisis in Syria has deepened following the suspected chemical weapons attack on the outskirts of Damascus on 21 August.
While British MPs have voted against military action, other countries, most notably the US, are still considering a military response.
Life in Syria is of course different to what it once was, but some things have remained the same, even with the threat of Western intervention. People still study, work and try to enjoy time with their friends and family.
Here, people in Syria provide us with an insight into their lives - and what has and hasn't changed.
Safa, Damascus
Life in Damascus is as normal as it can be, despite threats of an American-led strike.
State-backed bakeries are still open round the clock and the only thing that we suffer from in Damascus at the moment is the high cost of some food products because of the greedy traders.
I work in the public sector and like most people here I still go to work and like most families these days I'm busy with the return-to-school season.
Actually, me and my kids have taken part earlier this week in a campaign to support the schoolchildren of army service members especially those who have lost their lives defending our nation.
My mum and dad arrived two days ago and are staying with me for a short break in Damascus.
They travelled all the way from coastal city Latakia. My friend is actually preparing now for a short break to Latakia. That's how much the major roads are safe. In fact my family travelled between the two cities three times already this month. My brother came over from Dubai recently, visited the family in Latakia and made his way to us also in Damascus.
Logal, Tartus
People are still sitting on the beach until evening time, listening to music and having fun. The threat of military intervention hasn't changed this. No-one seems too worried about it.
Since 2011 my day-to-day routine has stayed quite normal in some ways, although it has become a bit sad and boring. I was studying in Damascus, but have come back to Tartus to continue my studies because the capital became too dangerous.
Now, I spend my days reading and sometimes I help my mum around the house with cleaning. We have problems with the electricity though. We had it 24/7 before the revolution but now it goes off for two hours in the morning and one hour in the afternoon.
I write songs sometimes and would love to be a singer. I really like Western music like Lady Gaga and Lana del Rey, but listen to almost anything from around the world. I watch a lot of Western TV too such as the British series Skins or the American series Gossip Girl.
In the early evenings I meet friends in a cafe. We drink the most popular hot drink in Tartus which is called matte and we smoke hookah. We can't easily just go out of this city to another to have fun in the summer like we used to be able to do.
Sometimes I remember the old life and cry because I look at pictures of my country now and it's just damaged and destroyed under the name of democracy. I even lost one of my best friends. He was kidnapped and murdered in Damascus.
Jean-Pierre, Damascus
The threat of a military strikes has certainly heightened tensions. Some of my friends that were able to leave have gone to places like Lebanon.
But living and working in Syria as a freelance journalist for the past six years, I can say that Syrians have grown accustomed to death and the sounds of explosions, unfortunately.
They have more pressing problems. Every week I learn of a friend of a friend who has been kidnapped. It's a real problem here in the capital. Almost everyone knows someone who has been kidnapped or killed.
I used to stay out until six in the morning but these days I can be the only one driving a car on the road after 11 in the evening.
Syrians are definitely watching more news but people are mentally drained by the everyday realities and worries. I'm talking simple things like the price of food.
A kilo (2lb) of rice I used to buy for 65 Syrian liras now costs 400. Buying a kilo of chicken, which now costs a whopping 10% of the average salary, has now become just a dream for many here. It's no wonder many work double-shifts or have two jobs to feed their families.