Worrying time for Israelis as US Syria strike looms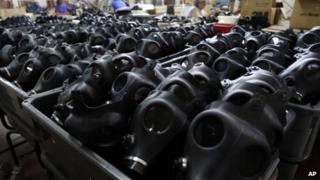 The temperature is hitting 35C (95F) and the queues outside the gas mask distribution centre in Tel Aviv - the only one in the region - are moving painfully slow.
Some people have been waiting six hours for the masks they fear may be needed if the US and its allies bomb Syria.
Empty water bottles and cigarette packets lie on the ground nearby and a man selling frozen drinks says he's sold 300 since the morning.
At the front of the queue an official pushes open the heavy glass door, shouts out a name and hands over a clutch of boxes containing the gas masks to a woman relieved the ordeal is finally over.
Others push forward, holding up their identity cards, hoping the official will write down their names and put them next in line.
While tempers fray and frustrations show, there is no sense of panic here.
Retaliation fears
But there is fear that either the Syrian military or Hezbollah in southern Lebanon could attack Israel in retaliation for Western air strikes.
And the worst-case scenario is that chemical weapons are used in any of these retaliatory attacks.
"It's frightening for me and my baby," says a woman named Yulia as she waits in a special queue for people with young children.
Her baby is just three-months-old.
"It's also frightening because my husband could be called in for the military reserve. The repercussions for us could be really, really bad."
There have been long queues at all the distribution centres across Israel over the past few days. Ten thousand masks were handed out on Thursday alone.
According to senior Labour Party politician and former minister Isaac Herzog, the population's fears are driven by the assumption that Syria has a large stock of chemical weapons which could be wielded against Israel.
"There is pressure now [on stocks of gas masks] because... my Syrian opposition sources say [Syrian President] Bashar al-Assad has 3,000 tonnes of sarin gas," Mr Herzog says.
"That's an enormous quantity."
While his is a much higher figure than most other estimates, Syria is believed to have the fourth-largest stocks of chemical weapons in the world, making this a particularly worrying time for Israelis with children.
"Being a wife, and a mother, and having a family here, this is very unnerving," says Taire Shraga, a marketing director based in Jerusalem.
"My daughter doesn't even have a safe room in her pre-school."
Call to carry on
But even among those queuing up for gas masks, there are plenty who believe the chances of Syria attacking Israel in retaliation for Western air strikes are slim.
And this chimes with the assessment of the Israeli military and intelligence agencies.
To emphasise the point, Prime Minister Benjamin Netanyahu on Thursday again called on people to carry on with their lives as normal.
Overall, the mood in the country does seem relatively calm even after announcements that air defences in the north were being strengthened and some reserve soldiers were being called up.
"I would say 60-70% of Israelis think Syria will not attack Israel if the American operation is limited to a surgical attack and doesn't attempt to wipe out President Assad's regime," says Professor Ephraim Yaar, head of Tel Aviv University's conflict resolution programme and an expert in Israeli public opinion.
"If the American operation is more extensive, damaging Assad's regime and his strongholds, then it would not be only Syria, but also Hezbollah we would have to worry about."
Intelligence experts believe Mr Assad knows that attacking Israel would prove to be suicidal for his regime as the Israeli military would hit back hard.
But experts are concerned that the powerful Shia militia Hezbollah, based in Lebanon, may try to launch some kind of attack, although again they say the chances are quite small.
"I think the likelihood that Hezbollah will open fire on Israel after an attack on Syria is even higher than the probability that Syrians themselves would do it," says former Israeli national security adviser Giora Eiland.
"It makes sense that if Syria is attacked by the United States or by its allies, then Iran will give an instruction to Hezbollah to open fire on Israel."
The question is whether it would be a small-scale symbolic attack which Israel could ignore or something much larger which would provoke an Israeli response.