Iraq unrest: Samarra car bomb 'kills 16' at city market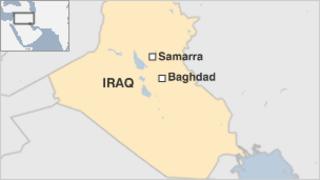 At least 16 people have been killed in a car bomb attack on a market in the Iraqi city of Samarra, officials say.
Another 26 people were wounded in the explosion, which struck at 06:45 (15:45 GMT) as shoppers attended the popular Mraydi fruit and vegetable market.
Samarra, a mostly Sunni Arab city, is 100km (62 miles) north of Baghdad.
Sectarian tensions are on the rise in Iraq. On Wednesday more than 80 people died in a series of co-ordinated bomb blasts in mainly Shia areas of Baghdad.
Busy market
The explosion came at a time when shoppers typically go to take advantage of reduced prices as surplus stock is sold before closing.
Three women and two children were among the dead, officials said. The market, the city's biggest grocery shopping area, lies in the Jiberia neighbourhood of eastern Samarra.
The Associated Press news agency reports another car bomb went off on Thursday in Abu Ghraib, on the western outskirts of Baghdad, killing five people and wounding eight others.
The intensity of attacks in Iraq this year by mainly Sunni Muslim insurgents has reached levels not seen for five years.
More than 1,000 Iraqis were killed in attacks in July, the highest monthly toll since 2008, according to United Nations statistics, the Reuters news agency reports.
More than two years of civil war in neighbouring Syria have inflamed long-running sectarian divisions in Iraq. The country's politics are characterised by an uneasy mix of Shia, Sunni and Kurdish factions.