Middle East press apprehensive over Syria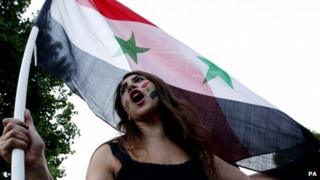 Newspapers in the Middle East are growing increasingly convinced that a foreign attack on Syria is imminent.
Military action is largely supported by pan-Arab dailies, as well as papers in countries opposed to President Assad's government such as Saudi Arabia and the Gulf states. But other regional commentators question the West's motives, saying that it is concerned about oil reserves more than human rights.
'Feverish excitement'
Several Pan-Arab dailies are calling for foreign military action. "The chemical violation is enough justification to punish the regime" without a UN mandate, says Al-Hayat, a Saudi-owned newspaper.
An editorial in pan-Arab nationalist daily Al-Quds Al-Arabi disagrees with critics of possible foreign intervention in Syria. It ridicules Russia's and Iran's warnings of "destabilisation" in case of an attack: "Where is the stability and security? Are Syria, Lebanon or Iraq enjoying them?"
In Syria itself, state-owned newspaper Tishrin agrees that the region "has become like a barrel of gunpowder". But, it argues, foreign military intervention could make the crisis even worse and undermine global peace and security. The editorial in Tishrin hopes that the Americans will "go back to the language of reason before getting embroiled in aggression".
Another government-run newspaper in Damascus, Al-Thawrah, is concerned that the truth may be overlooked in "the feverish excitement" of the situation around Syria. It asks rhetorically: "What if there was solid evidence that terrorist-armed organisations were the ones who used chemical weapons?"
'Decisive days'
An editorial in leading Saudi daily Al-Watan argues that a foreign military strike against Syria is imminent, even though it is not clear what form it will take. "The worry is how to contain damage from this intervention, limit it to specific goals and prevent it from affecting the life of civilians," says the paper. Another concern, it adds, is that "armed groups" are likely to dominate Syria's political landscape if and when President Assad is toppled.
Qatar's independent daily Al-Rayah says that the prospect of a US-led attack on Damascus is nothing to rejoice about, just as missiles falling on Saddam Hussein's Baghdad were no cause for celebration. But, it goes on, "the murderous regime in Syria" has left its opponents no choice. "Because of its sheer stupidity, the useless regime, which did not learn from the fate of an identical regime in Baghdad, has triggered foreign intervention," Al-Rayah says.
Kuwait's leading daily Al-Siyassah writes of apprehension: "Decisive days await the region. Everybody awaits the grand and tragic scene of the downfall of the oldest and the most terrorist of regimes in the region."
Lebanon's centrist newspaper Al-Anwar is among those critical of the military scenario being considered by Barack Obama. An article in the paper compares it to "Hollywood's action and horror movies". After promising to wrap up America's "costly and unsuccessful" military campaigns, the paper says, President Obama is "back to the policy of military immorality and aggressive power with all the associated rudeness, injustice and hegemonic and arrogant aggression". The reason, al-Anwar goes on, is not only because Syria is rich in oil, but also because it is "steaming with the deepest sense of hatred towards the unjust US policy".
Ulterior motives
Several other commentators in the Middle East also have doubts about the Western leaders' motives. "It is oil that speaks to the imagination of the West, which keeps on talking about human rights, justice and freedom," says Egypt's largest-circulation daily Al-Ahram, which is controlled by the government. "What is happening in Syria is part of a new episode of colonialism, even if it is hidden under the guise of human rights," it says.
In Oman, a commentator in private, pro-government paper Al-Watan does not mince his words while criticising opponents of the Syrian government. "The real goal of this strike, if does go ahead, would be to help mobs of murderers and terrorists achieve military gains," he says.
In Iran, which is a stalwart Assad ally, front-page headlines carry a sense of foreboding: "Countdown begins for attacking Syria"; "Syria's day of reckoning"; and "Ominous war cry of Syrian war".
Several Iranian newspapers argue that allegations of chemical weapons use by government troops in Syria are nothing but lies and propaganda. An editorial in conservative Siyasat-e Ruz accuses the West of "making false allegations over the use of chemical weapons in Syria, which have created an atmosphere of war in the region." Another hard-line newspaper, Qods, writes of "fake video clips of children allegedly killed or wounded in chemical attacks" circulated by Western media to prepare public opinion for an attack on Syria.
Israeli newspapers are also in no doubt that an attack on Syria is looming. "At any moment", says a headline in second-largest circulation daily Yediot Aharonot. There are also concerns over the possibility of a retaliatory Syrian strike targeting Israel. Even though military officials say chances of this are low, centre-right Ma'ariv says it is "impossible to know for certain how things will develop, and no risks should be taken".
BBC Monitoring reports and analyses news from TV, radio, web and print media around the world. For more reports from BBC Monitoring, click here. You can follow BBC Monitoring on Twitter and Facebook.