Palestinians killed in clashes with Israeli police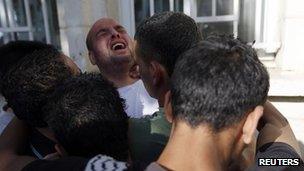 Three Palestinians have been killed in clashes with Israeli forces in Qalandiya refugee camp in the West Bank.
Nineteen Palestinians were wounded in the confrontation, Palestinian medical sources said.
Israeli officials said a large crowd attacked police with stones and petrol bombs during an arrest operation and "riot dispersal methods" were used.
Palestinian medics said all those killed were hit by live gunfire.
Palestinian sources named the dead as Rubeen Abed Fares, 30; Yunis Jahjouh, 22; and Jihad Aslan, 20. They said Fares and Jahjouh were both shot in the chest, and that Aslan had died of brain damage.
Palestinians cancelled a session of peace talks with Israel which were due to take place on Monday, in response to the killings, unnamed Palestinian sources said.
Direct negotiations between the two sides resumed earlier this month after a three-year hiatus. The last round of peace talks broke down in 2010 amid disagreement over the issue of Jewish settlements in the occupied West Bank.
Israeli army spokesperson Lt Col Peter Lerner told the BBC that security forces had gone to the area, about 12km (seven miles) north of Jerusalem, "to detain a terror operative".
He said that during the operation, hundreds of Palestinians started to attack security forces with "blocks and rocks, posing an imminent threat to their lives".
"[A] large violent crowd such as this, which significantly outnumbered security forces, leave no other alternative but to resort to live fire in self-defence," he said.
The Associated Press news agency quoted Hatim Khatib, whose brother Youssef, it says, was arrested in the raid, as saying troops dressed in civilian clothing arrived at their home at 04:30 (02:30 GMT).
"After half an hour we started hearing shooting from the soldiers inside our house, and then people started throwing stones at them,'' he said.
Israeli police spokeswoman Luba Samri said three police officers were injured after being hit by stones.
Palestinian Authority Prime Minister Rami Hamdallah condemned the killings, saying "such a crime proves the need for an urgent and effective international protection for our people".